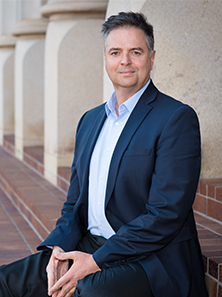 Andreas Rechkemmer
Professor, American Humane Endowed Chair, 2013-2018
Faculty
Graduate School of Social Work
What I do
Achieving social development and justice more and more depends on our ability to live sustainably and show respect for our natural environment and all living species. In an age of global change and inter-connectedness, the resilience and well-being of humans, animals, ecosystems and our broader environment are inextricably linked.
Concentrations
Specialization(s)
sustainable development and global practice, health and wellness, international social work/global practice
Professional Biography
Prior to his appointment at the University of Denver, Professor Andreas Rechkemmer held senior positions with the United Nations, including that of Executive Director of the International Human Dimensions Programme on Global Environmental Change at the United Nations University. He also served as Chief Science and Policy Advisor of the Global Risk Forum in Davos, Switzerland. His previous academic appointments and affiliations include the University of Cologne, Free University of Berlin, Beijing Normal University, Colorado State University and the United Nations University.
Rechkemmer's research interests include global sustainable development and social-ecological justice; holistic and interdisciplinary perspectives on resilience, including human individuals and communities, as well as ecosystems and the broader environment; the emerging "One Health" paradigm connecting the health and well-being of humans with that of animals and the environment; and the interface of sustainability, social development and human security.
He was principal investigator of various funded projects and managed grants from major science funders, including the U.S. National Science Foundation, the Research Council of Norway and the Federal Government of Germany.
Rechkemmer has authored, co-authored and edited several books as well as numerous articles and chapters. He is the editor of UNEO – Towards an International Environment Organization (2005) and serves as the chief editor of the United Nations and Global Change book series. He was awarded the Scheffel Prize for excellence in writing in 1985.
Watch a video of Rechkemmer's keynote address at the "State of the Wild" symposium (10-3-14).
Degree(s)
Dr. rer. pol., Free University of Berlin
Media Sources