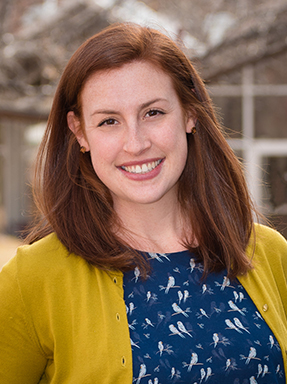 Arielle Giddens
Assistant Director of Professional Programs, Institute for Human-Animal Connection
Adjunct Faculty, Animals and Human Health
What I do
Arielle Giddens is a Licensed Master Social Worker. Her experience is in the field of nonprofit program management, human-animal interactions, and higher education. Arielle holds a Bachelor's degree from the University of New Mexico in Psychology and Fine Art and a Master of Social Work degree from the University of Denver. She also earned the Animal-Assisted Social Work Certificate while in graduate school.

Since 2013, Arielle has worked for the Institute for Human-Animal Connection (IHAC) at the University of Denver's Graduate School of Social Work. She began working part-time assisting the Animals and Human Health professional development certificate program and is currently Assistant Director of Professional Programs, which oversees the professional education department and supports the organization at large. Arielle enjoys connecting with students and professionals around the world who value animals and the natural environment and seek to include those elements into their career.

Previously, Arielle worked in animal welfare as the Director of Volunteer Services at Foothills Animal Shelter in Golden, Colorado and as the Operations Coordinator at Camp Mak-A-Dream in Missoula, Montana.