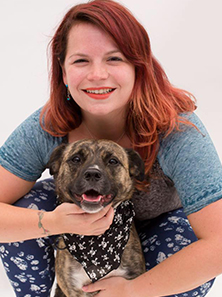 Ashley O'Connor
PhD Student
Doctoral Students
Graduate School of Social Work
Specialization(s)
addictions and substance use, evidence-based practice/implementation science, higher education, human-animal connection, intervention research, mental and behavioral health, research methods, trauma, veterans and the military
Professional Biography
Ashley O'Connor, MSW, is a doctoral candidate at the Graduate School of Social Work. She is currently working on her dissertation "From Veteran to Student: Using Structural Equation Modeling to Examine the Impact of School Environment on Educational and Psychosocial Outcomes." As of September 2015, O'Connor is acting as the research coordinator at the Iowa City Veteran's Affairs for the project 'Can Service Dogs Improve the Quality of Life in Veterans with PTSD?'
Her current research interests include...
community reintegration of returning veterans.
decreasing stigmatization of veterans who experienced trauma.
implementation science within the VA system.
alternative treatments for post-traumatic stress disorder, including psychiatric service animals and wilderness therapies.
human-animal interactions.
O'Connor is also continuing to work on her passion of teaching at the University of Iowa as an adjunct faculty member.
Degree(s)
Media Sources