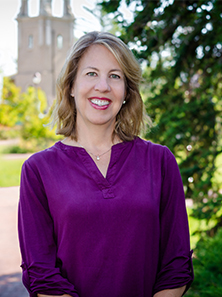 Denise Michelle Breinig-Glunz
Clinical Assistant Professor, Field Faculty/ PROGRESS Coordinator
303-871-2917 (Office)
Craig Hall, 2148 South High St. Denver, CO 80208
What I do
Social work is one of the few professions in which we are allowed to bring our whole selves to the work. Field education can be the start of that experience and one that can bring profound change to both ourselves and the clients we serve.
Specialization(s)
children and youth, clinical social work, culturally-responsive practice, families and family systems, leadership and organizations, mental and behavioral health, field education
Professional Biography
Denise Breinig-Glunz was the clinical director at the Center for Out-Of-Court Divorce (COCD). Previously, she was the social work supervisor at the Resource Center for Separating and Divorcing Families at the University of Denver. As part of an interdisciplinary team, she led the development, implementation and evaluation of the innovative program model that was used at COCD. Breinig-Glunz earned her MSW from Smith College and her bachelor of psychology from the University of Colorado, Boulder. She is a licensed clinical social worker in the state of Colorado.

Breinig-Glunz has advanced training and experience as a mediator within an interdisciplinary team. She is the faculty liaison for the Colorado Society for Clinical Social Work, for which she previously served as the education co-chair. Breinig-Glunz's areas of clinical expertise include adolescent day treatment, crisis intervention, conflict management, adult and childhood anxiety and parenting. She maintains a part-time private practice in Centennial, Colorado, with an emphasis on children and families. From 2010-13, she worked as a field placement liaison for the University's Graduate School of Social Work.
Degree(s)
MSW, Social Work, Smith College School For Social Work, 1992
BA, Psychology, University of Colorado, 1989
Licensure / Accreditations
Licensed Clinical Social Worker (LCSW)
Professional Affiliations
Presentations
(2016)
.
Interdisciplinary Training for Graduate and Law Students: The Center for Out-of-Court Divorce
.
Annual Program Meeting
.
Atlanta, GA:

CSWE
.
.
Awards
Community Service Award, Colorado Society for Clinical Social Work