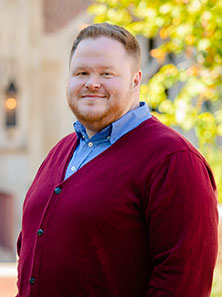 Donny Gerke
Assistant Professor
What I do
Social workers can play a critical role in promoting wellness and preventing disease in our communities. With a collaborative focus on psychosocial, environmental, structural, and social justice factors that affect health, we can address some of the fundamental causes of disease, and ultimately help people and communities lead healthier and more productive lives.
Concentrations
Specialization(s)
addictions and substance use, disparities, health and wellness, LGBTQIA, marginalized populations, mental and behavioral health, race and ethnicity, violence
Professional Biography
Assistant Professor Donny Gerke's research agenda broadly examines mental health, substance use, and other social and environmental determinants of health disparities and health risk behaviors in vulnerable populations, including sexual and gender minorities. His scholarship is informed by over five years of post-MSW practice experience in community-based health promotion with adolescent and adult LGBTQ populations at risk for HIV, STIs, and substance misuse. In his dissertation, The Role of Violence Exposure and Pathways to HIV Risk Behaviors in Black and White Young Men who have Sex with Men, he investigated the relationships between exposure to violence (child abuse and neglect, intimate partner violence, community violence), mental health problems, substance use, and HIV risk behaviors in 170 Black and White gay, bisexual, or other men who have sex with men (MSM) ages 18-34 recruited from community-based HIV prevention agencies in St. Louis and Kansas City, Missouri. This study deepens our knowledge of the pathways from violence to HIV risk behaviors, and examines racial disparities in predictors of HIV risk behaviors in Black and White MSM. His dissertation, which involved primary data collection, was funded by three competitive grants from the F31 National Institute on Drug Abuse Pre-Doctoral Training Award, the National Association of Social Workers Foundation Jane B. Aron Doctoral Fellowship, and the Society for Social Work and Research Doctoral Fellows Award. He holds a BSW from Seattle University and a MSW from Washington University in St. Louis.
Degree(s)
MSW, Washington University in St. Louis
PhD, Washington University in St. Louis
Media Sources