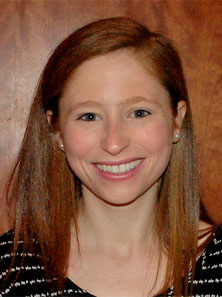 Hillary Haspel
Adjunct Faculty
Craig Hall, 2148 South High St. Denver, CO 80210
What I do
I am a Child and Family Therapist at Skyline Academy at the Mental Health Center of Denver, a day treatment program for students' whose mental health impacts their ability to function in a traditional public school setting. I am trained in EMDR and Theraplay, and enjoy creating unique and fun SEL groups to better engage students.
Specialization(s)
clinical social work, children and youth, Latinx populations, families and family systems
Professional Biography
Hillary Haspel grew up in New Orleans, LA, with a strong sense of community and the need to empower those who have historically and systematically been disempowered. She worked as a Teaching Fellow in the Breakthrough Collaborative for four Summers and served as a board member for six years. She attended the University of Texas, at Austin, and graduated with a BA in psychology. During her time at UT, Hillary was a Research Assistant in the Imagination and Cognition Laboratory, running and analyzing studies that examined children's understanding of various concepts including whether Robots have feelings, and understanding fossils. Hillary attended the University of Denver to pursue a Master of Social Work, and received her MSW in 2017, concentrating in Child Welfare and completing the Social Work with Latinx Certificate. Upon graduating, Hillary participated in the PASEO program, a month long summer practicum in Huanchaco, Peru, for Spanish speaking mental health professionals.
Degree(s)
MSW, Social Work with Latinx, University of Denver, 2017
BA, Psychology, University of Texas at Austin, 2015
Licensure / Accreditations
Licensed Clinical Social Worker (LCSW)