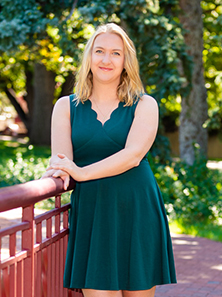 Jennifer Sedivy
PhD Student
Doctoral Students
Graduate School of Social Work
Butler Institute for Families
Specialization(s)
child welfare, children and youth
Professional Biography
Jennifer Sedivy's research interests focus on positive youth development for youth in care and improving juvenile justice and child welfare outcomes through evidence-based practice, program evaluation, translational research and dissemination and implementation science. She is particularly interested in...
bridging the research-to-practice gap among youth-serving programs, juvenile justice, and child welfare.
participatory-utilization focused research and evaluation.
university-community partnerships.
data-driven decision-making.
supporting the development, adoption and implementation of effective practices.
Sedivy, from a small, rural Nebraskan community, values integrity, diversity, genuine people, social justice, quality over quantity, experiences over material goods and helping others live happier and healthier lives. A lifelong learner, she loves reading and traveling and is passionate about the great outdoors, research and facilitating positive youth development.
Degree(s)
MSW, University of Nebraska Omaha