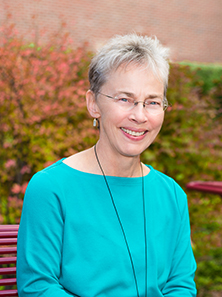 Kathryn Lee Johnson
Temp Field Advisor; Adjunct Faculty
303-871-3896 (Office)
Craig Hall, 2148 South High St. Denver, CO 80208
What I do
Teaching and mentoring students in their field internships has been a passion of mine for many years. I am very committed to supporting the development of our students as professional social workers and to encouraging this to be a lifelong process of ongoing growth and learning.
Specialization(s)
children and youth, clinical social work, families and family systems, health and wellness, higher education, trauma, field education
Professional Biography
Clinical Associate Professor Kathryn Johnson has been a social worker for nearly 30 years, working with high-risk youth and families in nonprofit residential and day treatment settings and community mental health centers overseeing client hospitalizations. She has been a clinician, team leader, program director and administrator.

Prior to becoming a social worker, Johnson was an elementary school teacher. Throughout her career, she has had a particular passion for training, supervising and mentoring student interns, encouraging and supporting them in their development as professionals in the field. An additional passion is mindfulness meditation, which has been a practice of hers for many years. She has been trained in mindfulness-based stress reduction and has taught mindfulness meditation in the community.

As a graduate of GSSW who is passionate about field education, Johnson has been pleased to work in various capacities over the years as a field instructor, field liaison, off-site MSW supervisor and part-time field coordinator on the school's field team. Johnson was appointed as a full-time clinical faculty and field coordinator in 2012. She is currently a clinical associate professor and the associate director for field education. Johnson is an avid runner, hiker and traveler, and she loves spending time in our mountains.
Degree(s)
MSW, Direct Practice, University of Denver, 1989
BS, Elementary Education, Eastern Montana College, 1977
Licensure / Accreditations
Certified Family Mediator
Licensed Clinical Social Worker (LCSW)
Professional Affiliations
Council on Social Work Education (CSWE)
Presentations
(2013)
.
Field Directors' Survival Guide: The First Two Years
.
CSWE Annual Progam Meeting
.
Tampa, FL:

CSWE
.
.
(2012)
.
Field Placement Disruption: Avoid it or Exploit it?
.
CSWE Annual Program Meeting
.
Washington, D.C.:

CSWE
.
.
(2016)
.
Off- Site MSW Supervision: Five Years Out
.
Council on Social Work Education APM
.
Atlanta, GA:

CSWE
.
.
(2013)
.
Off-Site MSW Supervision: Another Year Wiser
.
CSWE Annual Program Meeting
.
Dallas, TX:

CSWE
.
.
(2012)
.
Off-Site MSW Supervision: Out of Site but Not Out of Mind
.
CSWE Annual Program Meeting
.
Washington, D.C.:

CSWE
.
.