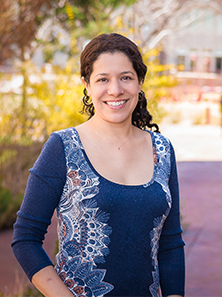 Lorena Gaibor
Clinical Assistant Professor
303-871-4205 (Office)
Craig Hall, 2148 South High St. Denver, CO 80208
What I do
I come to academia by way of community organizing and activism. As a first-generation Latina, my passion centers on understanding and working to challenge systemic oppression especially centered on race/ethnicity and immigration issues. Through my community ties and experiences, I bring activism to the classroom with the goal of creating bridges between the students and the community.
Specialization(s)
civic and community engagement, community organizing and community development, leadership and organizations, culturally-responsive practice, Latinx populations, international social work/global practice, racial justice, race and ethnicity, social justice
Professional Biography
Clinical Assistant Professor Lorena Gaibor serves as program coordinator of GSSW's Latinx Social Work Certificate. Before her appointment to the GSSW faculty in 2016, Gaibor worked in New Jersey. Gaibor was engaged in direct practice macro work coordinating and directing community-led programming and organizing efforts including advocacy for affordable housing, statewide disaster redevelopment, neighborhood redevelopment, and immigration reform. Gaibor obtained for MSW at Rutgers University in 2009.

More recently, Gaibor has continued her community work in Denver through outreach and advocacy efforts related to immigration reform and solidarity work with communities in resistance in the U.S. and Latin America. Through her work with the Denver Justice and Peace Committee, Casa de Paz and other local organizations, she is engaged with social justice work in the community. As a first-generation Latina, Gaibor is cognizant of the importance of representation within higher education and in the field of social work. Gaibor strives to bridge the divide between the academy and local communities, through local guest lecturers, student participation in community projects, and an international course in Chiapas, Mexico.
Degree(s)
MSW, Direct Practice, Children & Families, Rutgers University, Graduate School of Social Work, 2009
BA, Women & Gender Studies, Rutgers University, Douglass College, 2004
Union Semester program, Queens College, 2000
Other, Fine Arts Studies, Art Students League of New York, 1998
Licensure / Accreditations
Licensed Social Worker (LSW)
Professional Affiliations
Council on Social Work Education (CSWE)
Performances
(2018)
.
Catalyst Series for Social Justice: Truth to Power
.
Lorena Gaibor
.
GSSW

,

Denver
.
.
Presentations
(2019)
.
Bridging Borders and Deconstructing Paradigms Through Experiential Exchanges
.
Internationalization Summit
.
University of Denver:

Committee for the Internationalization Summit
.
.
(2017)
.
Env'l Justice & Resist'c to Mining in Chiapas
.
Denver Justice and Peace Committee
.
.
(2019)
.
Narrowing the Gap in Social Work Education to Serve the Latinx Community
.
Latino Social Workers Organization
.
Chicago:

LSWO
.
.
(2017)
.
The Global Implications of Community Struggle in Chiapas
.
Rocky Mountain Council for Latin American Studies
.
Salt Lake City, Utah
.
.
(2016)
.
Imposter Syndrome 101
.
Imposter Syndrome Panel
.
Garden Room- Colorado Women's College:

The Graduate Women's Council
.
.
Awards
Alumni Fellow, Eagleton Institute of Politics