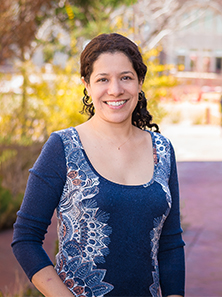 Lorena Gaibor
Clinical Assistant Professor
Faculty
Graduate School of Social Work
What I do
The values of our profession are what make it unique, meaningful and important. In my work with students, I am passionate about instilling the core values of service, social justice and belief in the dignity and worth of every person. I want students to realize their full potential by allowing themselves to be transformed through the process of their work as caring professionals dedicated to the public good.

As social workers, we learn as much or more from the communities that we serve as we have to offer them, and that's what makes our work equitable and impactful. Our dedication to transformative social justice work is what sets us apart from other caring professions and is why we are so needed in the world.
Concentrations
Specialization(s)
civic and community engagement, community organizing and community development, leadership and organizations, culturally-responsive practice, Latinx populations, international social work/global practice, racial justice, social justice, public policy
Professional Biography
Clinical Assistant Professor Lorena Gaibor serves as program coordinator of GSSW's Latinx Social Work Certificate. Before her appointment to the GSSW faculty, Gaibor worked in New Jersey, coordinating and directing community-led programming and organizing efforts including advocacy for affordable housing, Hurricane Sandy redevelopment and immigration reform. She especially enjoyed her work with BSW and MSW student interns as a field supervisor with her alma mater, Rutgers University.
More recently, Gaibor has continued her community work in Denver through outreach and advocacy efforts related to immigration reform and solidarity work with communities in resistance in the U.S. and Latin America. Through her work with the Denver Justice and Peace Committee, Casa de Paz and other local organizations, she is engaged with social justice work in the community.

Whenever possible, Gaibor strives to bridge the divide between the academy and local communities. Through interdisciplinary collaboration, she is broadening the scope of the classes that the Latinx Certificate offers with partnerships, including an international course being offered with the Korbel School in Chiapas, Mexico.
Degree(s)
Media Sources