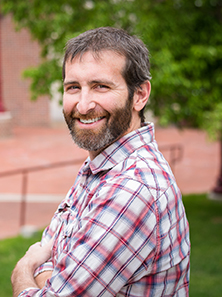 Mark Plassmeyer
PhD Student
Doctoral Students
Graduate School of Social Work
Burnes Center on Poverty and Homelessness
Specialization(s)
addictions and substance use, civic and community engagement, criminal justice, housing and homelessness, marginalized populations, mental and behavioral health, public policy, social justice
Professional Biography
Mark Plassmeyer is currently a doctoral candidate at the Graduate School of Social Work. He earned his MSW from the University of Pittsburgh in 2013 with a concentration in community organizing and social administration. While there, Plassmeyer was an active member of the Civil Action Movement (CAM), an organization comprised of social work students that aimed to equip the community to address issues of social justice and economic inequality. Plassmeyer was awarded the 2012 University of Pittsburgh School of Social Work Community Practice Award for his organization efforts around mental health and transportation funding in the state of Pennsylvania.
Plassmeyer has worked mainly for community mental health organizations in a variety of settings since graduating from Fort Lewis College with a BA in psychology in 2005. Currently, he is the director of Oakland residential programs for Community Human Services in Pittsburgh, Pennsylvania. The residential programs provide housing for people with chronic and severe mental health diagnoses while offering the opportunity for residents to build stronger ties to the Pittsburgh community.
Plassmeyer's research focuses on U.S. drug policy and the criminal justice system in general. He is particularly interested in how substance use policy and the civil penalties associated with criminal drug charges impact the ability of people to fully participate socially and economically in U.S. society. Plassmeyer is currently focusing on the role of housing in social and economic outcomes for people with drug offenses on their records, but he is also interested in affordable housing, emerging cannabis policy and the role of social workers in politics.
Concentrations
Degree(s)
MSW, University of Pittsburgh