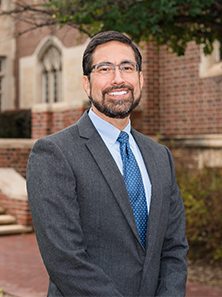 Michael Talamantes
Clinical Associate Professor
What I do
The opportunities for social work in health are infinite. If you define health broadly and are passionate about whole person care and the social determinants of health, the health and wellness concentration is right for you. This concentration can be a pathway for you to make a difference for those most vulnerable. It will place your career on a trajectory that will be dynamic, challenging and gratifying.
Concentrations
Specialization(s)
clinical social work, disparities, health and wellness, mental and behavioral health, social justice
Professional Biography
Michael Talamantes, LCSW, has been a clinical associate professor at the Graduate School of Social Work since 2013. Talamantes is the coordinator of the health and wellness concentration and the dual MSW/MPH program. He was a field instructor for over 20 years and a clinical social worker at the University of Colorado Hospital on the liver transplant team for 21 years. He is the co-PI of the HRSA's Behavioral Health Workforce Education and Training grant, awarded to GSSW in 2017. He is the co-chair of the Colorado's State Innovation Model (SIM) workforce workgroup and active across Colorado regarding workforces and the integration of health and behavioral health.
Talamantes is a Disparities Scholar from the National Institutes of Health Translational Health Disparities Conference (2014) and a Behavioral Health Training Fellow from the National Institute on Alcohol Abuse & Alcoholism (NIAAA) (2017). He is an active member of the Council of Social Work Education (CSWE), the Society for Social Work Leadership in Health Care (SSWLHC), the Collaborative Family Healthcare Association (CFHA) and the National Association of Social Workers (NASW). Talamantes received the Excellence in Teaching Award for Appointed Faculty, Graduate School of Social Work, in 2014. He teaches in both the foundation and concentration curriculum.
Degree(s)
MSSW, University of Texas at Arlington
Licensure / Accreditations
Media Sources