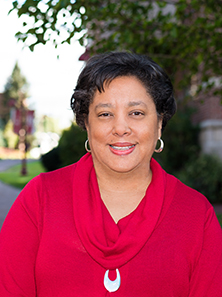 Michele Hanna
Associate Professor
Faculty
Butler Institute for Families
What I do
We have the potential to learn something new every day if we are willing to open ourselves to the world around us - we learn new facts, we learn different perspectives, we learn about each other, and, most importantly, we learn about ourselves. As a result, we grow, we change and we have impact.
Concentrations
Specialization(s)
child welfare, children and youth, culturally-responsive practice, disparities, higher education, race and ethnicity, racial justice, social justice
Professional Biography
Associate Professor Michele Hanna joined the faculty at GSSW in 2005 and served as the Associate Dean for Academic Affairs from 2014-2018. Hanna currently serves as the coordinator of the Child Welfare concentration and has taught both child welfare practice and policy courses. She also serves as Faculty Liaison for the Child Welfare Title IV-E Stipend Program with the Butler Institute for Families. Hanna has also taught Power, Privilege and Oppression, Disproportionality and Disparities Across Systems, Critical Race Theory Praxis and Social Work, and the doctoral qualitative research sequence.

Prior to pursuing her PhD at The University of Texas at Austin, her professional experience included working as an adoption birthparent counselor, a child protective service worker, child welfare adoption specialist, child welfare supervisor and program field representative for a statewide special needs adoption program.

Hanna's research focuses on child welfare, foster care and adoption. From 2008-2014, she was the Principal Investigator for the evaluation of Denver's Village: Wrapping Families with Community Support. This City and County of Denver project was funded as part of the Children's Bureau's Diligent Recruitment of Families for Children in the Foster Care System grant cluster. Most recently, she completed a one year collaborative project with Tennyson Center for Children, a local non-profit that serves children who have been abused and neglected. 
Currently, Hanna is the principal investigator for [email protected], a four-year, federally funded (HRSA) training grant that provides stipends to students interested in pursuing a career in integrated behavioral health. [email protected] seeks to expand the healthcare workforce in Colorado and the Four Corners region, focusing on medically underserved communities.
Degree(s)
MSW, University of Oklahoma
PhD, The University of Texas at Austin