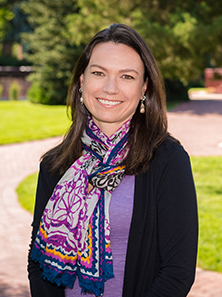 Suzanne Elaine Kerns
Research Professor and Executive Director
303-871-2031 (Office)
Craig Hall, 2148 South High St. Denver, CO 80208
What I do
We now know so much about what works to support the emotional and behavioral health of young people. While there will always be a need for new discoveries and the further refining of our clinical approaches, the time is now to focus on how to take the best of what we know and improve population health. Doing so in partnership with communities has the potential to move the needle on child wellbeing.
Specialization(s)
child welfare, children and youth, evidence-based practice/implementation science, intervention research, mental and behavioral health, social justice, trauma, violence
Professional Biography
Research Associate Professor Suzanne Kerns serves as executive director of GSSW's Center for Effective Interventions. A licensed clinical psychologist, Kerns previously served for 10 years on the faculty of the Department of Psychiatry and Behavioral Sciences at the University of Washington. Her clinical and research interests focus on enhancing the well-being of children and families by ensuring access to treatment approaches proven to be effective, including examining the acquisition, implementation, adaptation and sustainability of evidence-based practices.

Kerns was trained as a multisystemic therapy (MST) therapist in 2005, and she was a clinical consultant for the Multisystemic Therapy–Family Integrated Transitions (MST-FIT) program, an adaptation of MST for youth returning home from secure incarceration. She is clinically trained in a number of other evidenced-based treatments for children, including...

* the Triple P Positive Parenting Program, for which she has been a national trainer since 2001.
* Helping the Noncompliant Child.
* Parent-Child Interaction Therapy.
* Trauma-Focused Cognitive Behavioral Therapy (CBT).
* CBT+, a components-based model for delivery of CBT for anxiety, depression, traumatic stress and behavior problems.
* Dialectical Behavior Therapy.

Kerns is a member of the International Evidence-Based Practices Consortium and is an elected officer (conference chair) for the Society for Implementation Research Collaboration (SIRC).
Degree(s)
Ph.D., Clinical Community Psychology, University of South Carolina, 2006
MA, Clinical Psychology, University of South Carolina, 2001
BS, Psychology, The Pennsylvania State University , 1997
Licensure / Accreditations
Licensed Psychologist
Clinical Psychologist
Professional Affiliations
Research
Most of my research explores the intersection of evidence-based interventions and implementation science, with an emphasis on programs that support vulnerable children, youth and families.
Areas of Research
implementation science
dissemination
evidence-based interventions
Key Projects
Establish and Maintain a Clearinghouse of Family First Prevention Services
National Center for Evidence-Based Practice in Child Welfare
Pay for Success - MST
Presentations
(2019)
.
Title IV-E Prevention Services Clearinghouse Information Session
.
National Child Welfare Evaluation Summit
.
Washington DC:

Children's Bureau & OPRE
.
.
(2019)
.
"Pay for Success" to improve child welfare and juvenile justice outcomes in Colorado
.
2019 Convening on Children, Youth and Families
.
Keystone, CO
.
.
(2018)
.
Advancing EBP dissemination: Three state approaches to centers of innovation
.
Blueprints Conference
.
Westminster, CO
.
.
(2019)
.
Partnering for Success: A Comprehensive Strategy for Improving Mental Health Outcomes for Children and Youth in the Child Welfare System
.
National Child Welfare Evaluation Summit
.
Washington DC:

Children's Bureau & OPRE
.
.
(2019)
.
The impact of trauma screening and other approaches to addressing the mental health needs of children and youth in foster care
.
National Conference on Child Abuse and Neglect
.
Washington DC:

Children's Bureau
.
.
Awards
Top Principal Investigator, University of Denver