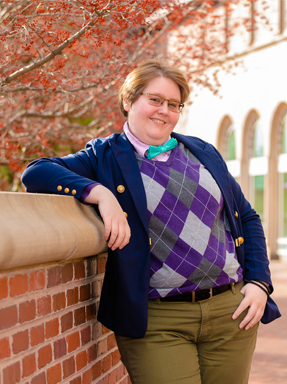 Melanie Smith
Program Coordinator
Staff
Butler Institute for Families
Specialization(s)
child welfare
Professional Biography
Melanie has a passion for creating order out of chaos. When presented with overwhelming amounts of data or workgroups with a thousand different tasks and moving parts, Melanie takes pleasure in making a better spreadsheet, making a better task tracking system, or setting up a more streamlined way to communicate and collaborate. Melanie enjoys the puzzle of finding ways to better coordinate, searching out where knowledge lies and creating pathways to get it to the people who need it.
Before coming to the Butler Institute, Melanie worked in public health for four years, doing administrative work and coordination for patient-centered outcomes research and community-based participatory research programs and projects. Melanie learned the importance of engaging people and communities that are affected by programs and projects and to elevate those voices to be just as important as those of other stakeholders. Melanie has a passion for engaging the "unusual suspects" and giving a platform to those that have lived experience to share their insights.
When Melanie isn't working, they enjoy writing, crafting, and playing Dungeons and Dragons on the weekends.
Degree(s)
MA, Emergent Digital Practices, University of Denver, 2013
BA, English Creative Writing, Nicholls State University, 2011