Farewell to IHAC's Arielle Giddens
Thank you to Arielle for 9 years of service to IHAC!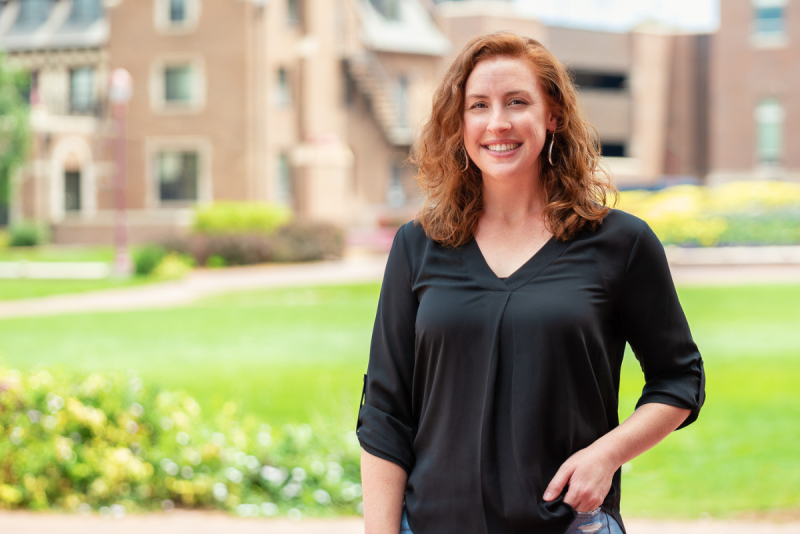 With appreciation and best wishes for the future, the Institute for Human-Animal Connection (IHAC) is announcing Arielle Giddens' departure from our organization after nine years of service to our human-animal interaction education programming. Arielle is pursuing a career shift from social work and adult learning to elementary education, where she can put her skills and passion into practice daily with children.
In 2013, Arielle graduated from DU's Graduate School of Social Work with an MSW degree and certificate in Animal-Assisted Social Work, currently known as the Human-Animal-Environment Interactions in Social Work Certificate. Arielle joined IHAC as a part-time program assistant. Through her dedication and leadership, she has grown with the institute and is leaving as IHAC's full-time assistant director of professional programs. Over the years, Arielle helped develop and launch several other certificates and courses growing IHAC's total professional development offerings from one certificate in 2013 to currently four certificates plus an online, self-paced course. The professional development program, IHACPro, has engaged 950 learners from over 25 different countries. It is the premier in-depth education program for human-animal interactions professionals around the world.
Arielle's attention to detail, technical skills, and marketing strategies will have lasting impact on the education programs at IHAC. In addition, her meaningful relationships with students and alumni will be missed. Throughout her time at IHAC, Arielle was a strong advocate for improved student experience and served on the University's Instructional Technology Committee along with improving processes to better meet IHAC student needs. Arielle, in collaboration with colleagues, developed a suite of professional development scholarship opportunities to increase accessibility and diversity in the field of human-animal-environment interactions.
The next chapter of Arielle's career will move her from the online, adult-learner classroom to the elementary school classroom. Her values and skills as a social worker are valuable building blocks for her continuation in the field of education. IHAC wishes Arielle the best in her journey to educate and inspire children!