Farewell to IHAC's Erica Elvove
Thank you to Erica for 13 years of service to IHAC!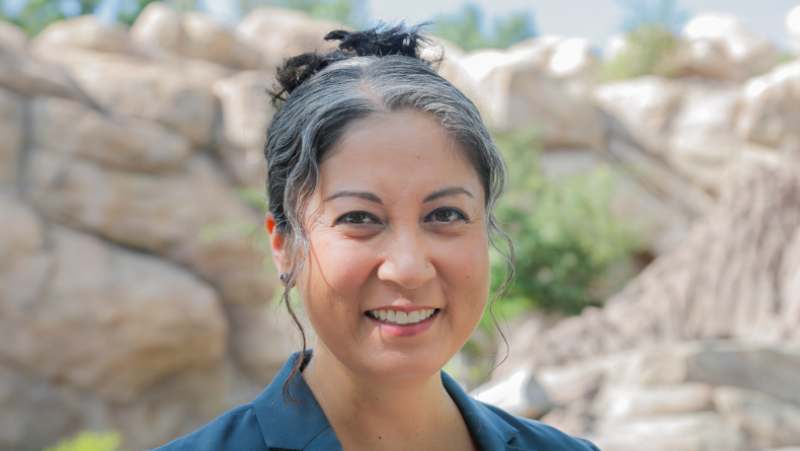 With deep gratitude and appreciation for her influence and leadership, the Institute for Human-Animal Connection (IHAC) is announcing Erica Elvove's departure from our organization. After 13 years of service to IHAC, Erica is now transitioning to her new role as the Senior Vice President for Conservation Engagement and Impact at the Denver Zoological Foundation.
After graduating with her MSW and the Animal-Assisted Social Work (AASW) certificate in 2008, Erica has made crucial contributions to the growth of the IHAC. Erica joined IHAC as a program coordinator, and through her diligence and amazing vision, she grew along with the institute and is leaving as IHAC's associate director. A highlight of Erica's work with IHAC is the very successful IHACPro professional development program, which has seen tremendous growth and development over the last few years. The current slate of four certificates has hosted over 750 graduates from more than 20 countries. She has also worked to establish a scholarship program for IHACPro to include students who otherwise would not be able to participate, as one of IHAC's key diversity, equity, and inclusion goals.
Erica has developed and implemented significant growth across all of IHAC's educational programs and certificates, managed marketing and media relations, led grant development, and supervised IHAC staff and interns. In addition to her staff role, Erica has also been one of GSSW's adjunct faculty, leading courses in human-animal-environment interactions including the Conservation Social Work in Kenya and Animals and Human Health Capstone courses, with a focus on ethics and welfare. Another amazing accomplishment is the creation of IHAC's Animals on the Mind Conference, which brings together animal-assisted intervention practitioners and thought-leaders from around the world.
Erica is taking IHAC's mission to a national stage at the Denver Zoo, where she will lead an effort to reimagine the role of zoos as key educators and actors in the conservation of all species. We will miss her calm, generous, and thoughtful presence, and will look forward to working with her on new partnerships and possibilities.
If you wish to send Erica a message or share a favorite memory from her time with IHAC, please visit https://www.kudoboard.com/boards/CLTBHjUz by July 20, 2021.