Farewell to IHAC's Ashley Taeckens
Thank you to Ashley for 2 amazing years as our Research Fellow!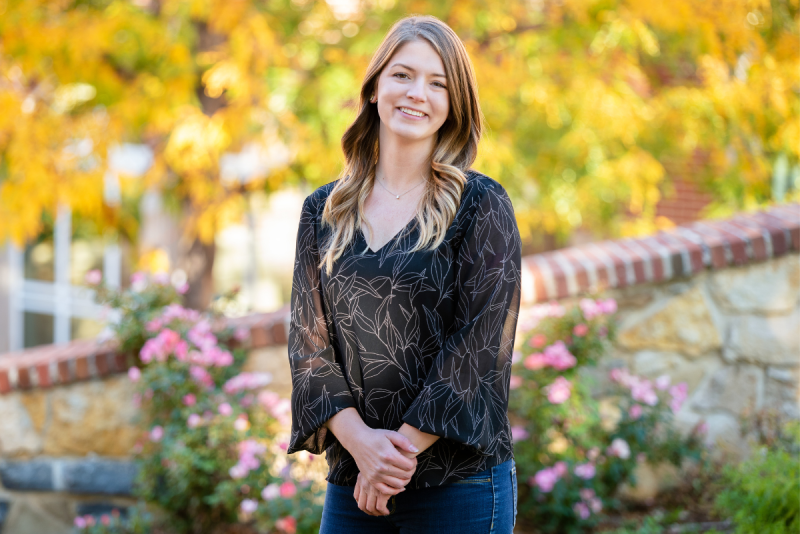 With appreciation and best wishes for the future, the Institute for Human-Animal Connection (IHAC) bids farewell to Ashley Taeckens as she completes the two-year IHAC Research Fellowship. The fellowship, which is generously funded by an anonymous donor, focuses on developing master-level graduates' research and project management skills. The goal is to prepare them for doctoral studies or research careers that positively impact social issues, with an emphasis on incorporating human-animal-environment interactions.
Ashley graduated with her MSW from the University of Denver's Graduate School of Social Work in 2018. She then spent three years conducting research and laying the foundation for a startup nonprofit program within the University's Knoebel Institute for Healthy Aging before starting the IHAC Research Fellowship in July of 2021. She has been integral to maintaining the institute's existing research portfolio and expanding its scope.
Ashley made significant contributions to IHAC's research at Green Chimneys, a residential treatment center and special education school for youth experiencing severe psychosocial challenges. She improved data tracking systems, generated new project ideas, and completed qualitative analyses on the human-animal-environment interaction experiences of the Green Chimneys students. Further, Ashley helped design and implement a randomized control trial aimed at better understanding how pet dogs mediate their owner's stress responses, maintained and engaged with new community partners, and, perhaps most importantly, applied her passion and gerontological expertise to expand the institute's work into understanding how human-animal interactions can support healthy aging trajectories. Key to this work is an expanded definition of human frailty that incorporates both physiological and psychosociological components of aging. During her fellowship, Ashley co-authored three peer-reviewed manuscripts, published two refereed conference abstracts in addition to a handbook chapter and a program evaluation report, and gave numerous internal and external presentations to diverse audiences.
Ashley will continue her dedication to researching human health across the lifespan as the Director of Research at Hope Squad, an organization committed to reducing mental health stigma and eliminating youth suicide through education, training, and peer intervention. The IHAC Research Fellowship leaves her well prepared to take on the challenging role of evaluating and optimizing the program and researching client outcomes. The IHAC team will miss Ashley's enthusiasm for the institute's work and her thoughtful contributions but is excited for the great work she will do at Hope Squad and wishes her the best in all future endeavors!