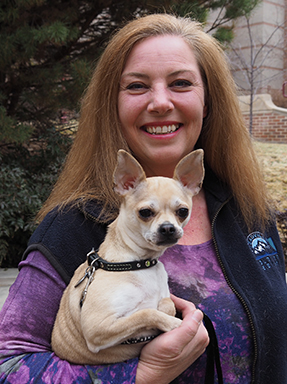 Jen Pearson
Adjunct Faculty, Institute for Human-Animal Connection
What I do
Jen Pearson entered the social work profession after years of working as a riding instructor and dog handler. Her clinical work has focused on utilizing animal-assisted interventions with at-risk youth in settings such as Green Chimneys Children's Services, the Griffith Centers for Children and The Hole In The Wall Gang Camp, as well as Pet Partners and PATH International. In addition to her MSW and Animal-Assisted Social Work certificate from the University of Denver, Jen earned a Master of Science (MSc) degree from the University of Edinburgh's Royal (Dick) School of Veterinary Studies in the United Kingdom in Applied Animal Behaviour and Animal Welfare.
Jen is a lifelong horsewoman. As a young rider, she showed extensively in Medal/Maclay and junior jumpers. She was an AQHA national competitor in halter, western pleasure, and hunt seat. As an adult, Jen has been riding dressage for over 20 years, is a certified instructor and utilizes a classical foundation in her teaching and training. She became involved in NARHA (now PATH) in 1999, earned the Equine Specialist certification from EFMHA in 2006, served on several task force committees, and has been an EFP practitioner and supervisor for over ten years.
Jen's work with canines began in the mid 1990s at a large German Shepherd kennel where she was involved in breeding, socializing, training and teaching obedience classes. She has done extensive work with clicker training and verbal marker systems, and is a graduate of the Michael Ellis School for Dog Trainers. Jen was a Delta Society Pet Partner (now Pet Partners), and has been incorporating dogs into her clinical practice since 2005. She is an evaluator for Professional Therapy Dogs of Colorado and the AKC Canine Good Citizen tests. As a full-time trainer and instructor, she teaches classes in companion and competition obedience, CGC and therapy dog prep, Nose Work, and behavioral rehabilitation. Jen enjoys working her own dogs in obedience, therapy, detection and protection sports.
Jen has been teaching in the Animals and Human Health certificate program since 2008. She has presented at professional conferences in the US and abroad, and has been a permanent guest lecturer for the University of Edinburgh's International Animal Welfare, Ethics, and Law and the Companion Animal Welfare programs since 2012. At GSSW, she has taught campus-based courses in animal-assisted social work and program evaluation.