Education Highlights from 2022
Leading the Way in Human-Animal-Environment Interaction Education
Since 2005, the Institute for Human-Animal Connection has been committed to providing high-quality, flexible education to professionals incorporating animals into therapy, education, and beyond. Our suite of professional development certificates, known as IHACPro, includes four in-depth certificates - Animals and Human Health, Canine-Assisted Intervention Specialist, Equine-Assisted Mental Health Practitioner, and Humane Education Practitioner. We also offer a self-paced, short course, Orientation to Human-Animal Interactions. 2022 was another successful year with exciting milestones and growth!
IHACPro By the Numbers - 2022
Thanks to our instructors and staff 10 new cohorts, totaling 115 new learners, enrolled in our professional development programs this year.
We congratulated 89 graduates for completing their certificate programs!
We added one new full-time coordinator to improve student experience.
Two new instructors joined the Humane Education Practitioner Certificate team.
And, gave out $13,000 in scholarships - increasing student diversity and making our education programs more accessible!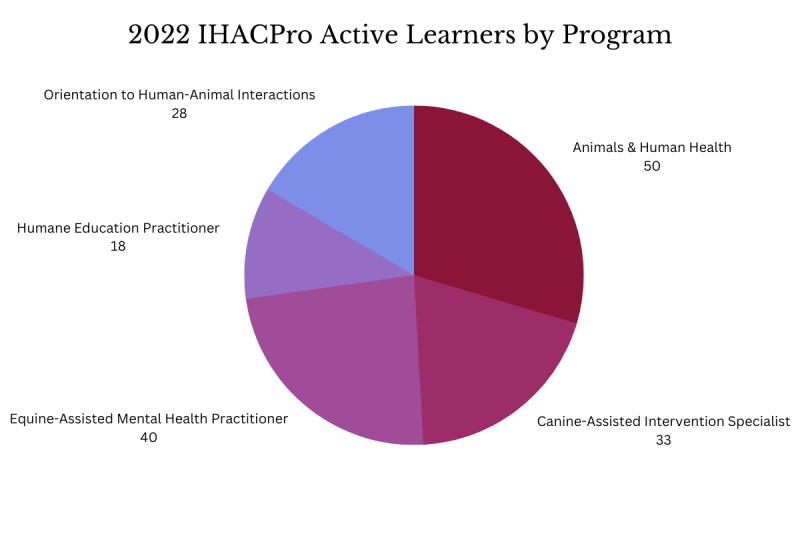 In addition to IHACPro, the institute also supports the Human-Animal-Environment Interactions in Social Work Certificate (HAEI-SW), which is available through the Graduate School of Social Work's Master of Social Work degree program. In June 2022, we celebrated 58 HAEI-SW graduates! 
A huge thank you to all of our students, alumni, instructors, and staff for supporting IHACPro! We have big plans for the education offerings in 2023. Please reach out if you are considering one of our professional development certificates or the Orientation course.