Nursing and Animal-Assisted Interventions
Guest Author - Anne Ingalls Gillespie, MSN, RN, CPHON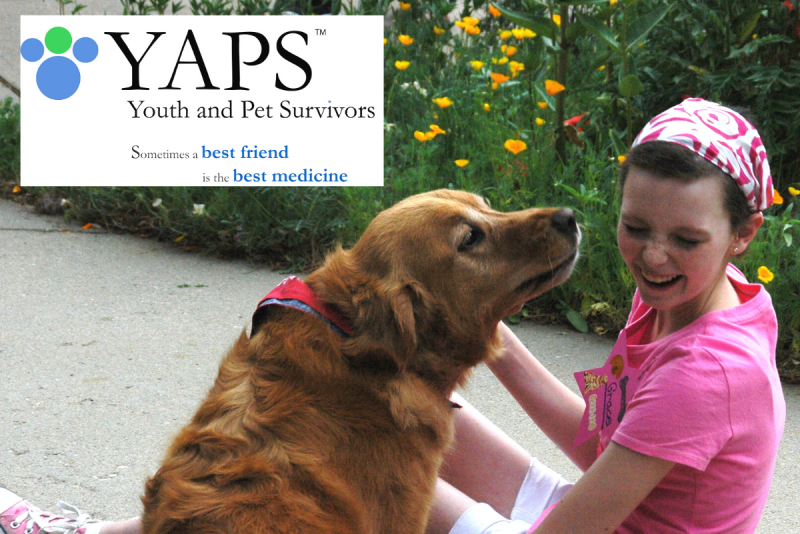 Employing the healing power of animals to improve human health and wellbeing is a natural fit for the profession of nursing. Nurses have long been at the forefront of providing holistic, innovative, non-pharmacological interventions in health promotion and symptom alleviation, including animal-assisted interventions for patients of all ages.
Animal-assisted intervention (AAI) in hospital settings most commonly involves trained therapy dog/handler teams. Nurse-led research examining AAI with hospitalized patient populations from pediatrics to geriatrics suggests that AAI has a positive impact on patient experiences of hospitalization, such as reduced anxiety and enhanced quality of life. AAI brings healing and happiness in ways that other interventions cannot.
Pediatric oncology nurse Anne Ingalls Gillespie created a unique AAI program in 2001: Youth and Pet Survivors (YAPS). YAPS is a pen pal program that matches children with cancer to dogs and cats who have also been treated for cancer; letters and photos are exchanged to provide a "virtual" visit with the animal, whose owners write letters in the voice of their pet. Findings from a preliminary study suggest that children in YAPS enjoy having an animal pen pal as a source of friendship, connection, shared experience, fun, and the opportunity to share feelings related to their cancer treatment (Gillespie & Neu, 2020).
Still, little is known about the mechanisms of action for YAPS. In 2019, Gillespie began her PhD education in biobehavioral science with an intention to dedicate the remainder of her career to advancing the science of AAI. Gillespie's PhD dissertation research is focused on discerning how writing to an animal pen pal with a shared diagnosis may influence quality of life perceptions during and after cancer treatment.
Gillespie is one of a growing number of Nurse Scientists who are exploring new applications of AAI in every arena of healthcare for the sake of improving the lives of many across the lifespan. In addition to her PhD research, Gillespie is analyzing the impact of AAI on quality of life in children with relapsed/refractory cancer and their parents. She will be presenting the findings at the Sigma Theta Tau International Nursing Research Congress in Edinburgh, Scotland, July 2022.
About the Author:
Anne Ingalls Gillespie, MSN, RN, CPHON, is a third year PhD student in Biobehavioral Science at the University of Colorado College of Nursing, Anschutz Medical Campus. She has specialized in providing nursing care for pediatric hematology/oncology patients for over three decades. She created the Youth and Pet Survivors Program™ (YAPS™) in 2001, a pioneer program and novel form of virtual animal-assisted therapy. YAPS™ is a pen pal program designed for children with cancer (aged 6 to 18) to engage in virtual visits, through letter writing and pictures, with a dog or a cat that has also been treated for cancer or serious medical illness (pet owners assume the personality and voice of their pet when corresponding with a child). Her PhD research focus is virtual animal-assisted therapy.
For More Information:
Gillespie, A. I. & Neu. M. (2020). Youth and Pet Survivors: Exploring the experiences of pediatric oncology and bone marrow transplant patients in a virtual animal-assisted therapy pen pal program. Journal of Pediatric Oncology Nursing, 37(6), 368-376. https://doi.org/10.1177/1043454220944122
YAPS website: https://youthandpetsurvivors.org