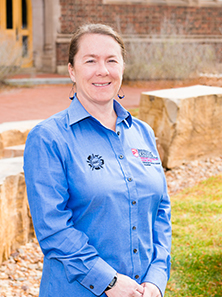 Carri King-Bussard
Adjunct Faculty
What I do
Carri earned her master's degree in counseling from Webster University in Albuquerque, NM in 1998. She is currently a Licensed Professional Counselor (LPC) in the state of Colorado. Carri earned a Certificate in Animals and Human Health: Animal Assisted Therapy and Learning from University of Denver's Graduate School of Social Work in 2007.
In her work over the last 24 years, King-Bussard has utilized the strength of the human-animal bond while working with a variety of people in a variety of settings. She has extensive experience working in the community with high-risk youth and their families.
King-Bussard currently works within her private practice which is called Animal Assisted Counseling of Colorado (AACC). AACC provides office and community based mental health services which are a combination of evidence based practices and Animal Assisted Therapy (AAT). AACC provides individual, group, and family therapy as well as ongoing assessment and case management services. She receives most of her referrals from the child welfare system and is a Medicaid provider for both Denver and Arapahoe Counties. King-Bussard also works with adults with mental illness. She works with many furry co-therapists that include her three therapy dogs, four therapy Guinea pigs, two rats, and collaborates with Gallants Gold Acres to provide Equine Assisted Psychotherapy.
King-Bussard is also Co-Owner of Professional Therapy Dogs of Colorado (PTDC) whose mission is: to promote the human canine bond for professionals and volunteers working within the mental health field. PTDC provides education, training, evaluation and registry for dog handler teams. PTDC is dedicated to enhancing the mental health professional's ability to incorporate and deliver individualized canine interventions.