New IHAC Adjunct Faculty, Maureen Huang
Animals and Human Health Certificate: International Expertise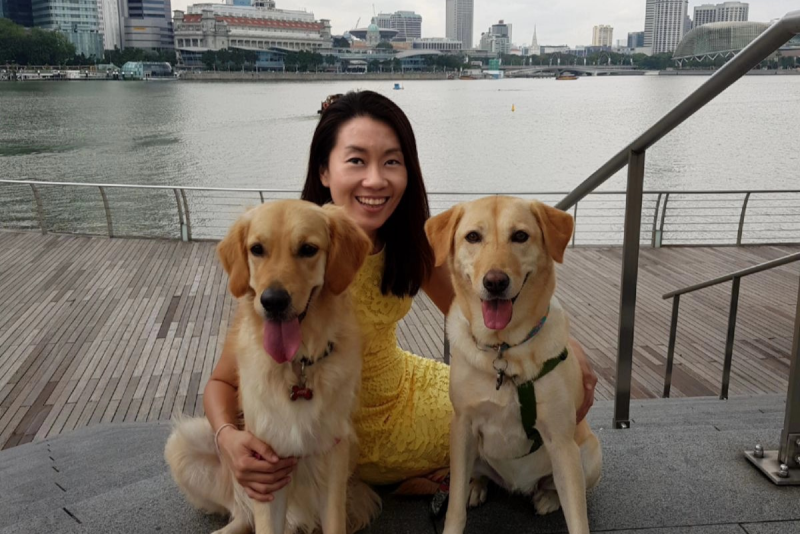 The Institute for Human-Animal Connection (IHAC) is pleased to welcome Maureen Huang to the adjunct faculty team for the Animals and Human Health certificate program. Huang is the founder of Pawsibility, a private practice in Singapore that specializes in animal-assisted therapy. She often works alongside her canine co-therapists, Telly and Hope, to bring insights that change the way people think, behave, and feel. Maureen works with children, teenagers, and adults on a wide variety of issues such as depression, anxiety, self-esteem and anger. She also provides coaching for parents and families on managing conflicts and challenges at home. In addition, Maureen has also designed and delivered workshops to schools and organizations on topics ranging from mental wellness to development of social emotional skills. She is attuned to cultural sensitivities and has worked with clients of varying nationalities and cultural backgrounds.
As a pioneer in the field of animal-assisted interventions (AAI) in Singapore, Maureen has taken on the role of educating and informing the public as well as educators and healthcare professionals on the benefits of AAI and the human animal bond.
Huang received her Master of Social Work and Animal-Assisted Social Work (now known as the Human-Animal-Environment Interactions in Social Work) certificate from the University of Denver's Graduate School of Social Work. She also completed her Level 1 and 2 training in Animal-Assisted Play Therapy.
"Animals have been my trusted partner at work, and I have witnessed how they have the ability to touch and transform human lives. I gained so much during my time at DU and I want to give back and share my knowledge and experience with future generations of practitioners in AAI," states Huang.
Huang also volunteers with the community and currently serves as the advisor of SOSD Healing Paws, an animal-assisted activities program where volunteers can bring their pet dogs to visit patients in hospitals and nursing homes etc. Prior to that, she worked with horses in therapeutic riding and equine-assisted learning programs.