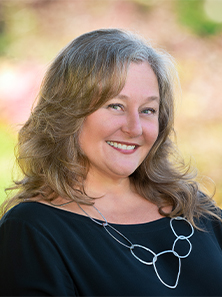 Amanda Moore McBride
Professor, Morris Endowed Dean
What I do
GSSW embraces the civic mission of higher education. Our education and research address society's most entrenched social issues in partnership with communities near and far. As my expertise is civic and community engagement and social innovation, I am honored to be in service of the field's most bold, community-engaged solution seekers in the GSSW faculty, staff, students, and alumni. Please come join us in making a difference.
Concentration(s)
Specialization(s)
civic and community engagement, community organizing and community development, higher education, leadership and organizations, research methods, social innovation and entrepreneurship, social justice
Professional Biography
Amanda Moore McBride, PhD is the Morris Endowed Dean and Professor of the Graduate School of Social Work (GSSW) at the University of Denver (DU). McBride is an internationally recognized expert in civic and community engagement. Her scholarship focuses on ways to promote engagement through education, programs, and policy, addressing issues of inclusion. Prior research has focused on national service, service learning, and international volunteering across nearly 100 publications. Dean McBride is a leader in the field of community engagement in higher education specifically, convening conferences and writing on the topic for the Chronicle of Higher Education and the Huffington Post. Prior consultancies include with the United States Corporation for National and Community Service, the United Nations Volunteer Program, and the Social Science Research Council. She has organized more than 20 conferences, including recent think tanks on the rise of social innovation in higher education. Dean McBride joined DU in 2016 after being affiliated with Washington University in St. Louis for 23 years where she was the Bettie Bofinger Brown Associate Professor at the George Warren Brown School of Social Work and executive director of the Gephardt Institute for Civic and Community Engagement.
Degree(s)
MSW, Washington University in St. Louis
PhD, Washington University in St. Louis
Media Sources