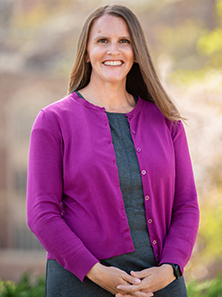 Amity Lizabeth Good
Clinical Assistant Professor
303-871-2397 (Office)
Craig Hall, 2148 South High St. Denver, CO 80208
What I do
I am honored to be a part of the growth and development journey of future social workers as they find their voice as clinicians and change agents. I share my health and wellness clinical experiences to display the diverse ways that we promote social justice, service, and dignity and worth of a person within the community as this has been an important part of my clinical career. I strive to encourage students to find their unique sense of self and how they can incorporate this into their social work identity in order to promote authentic and connected practice.
Professional Biography
As a GSSW alumni from 2001 and a Licensed Clinical Social Worker, Amity has spent the past 20 years in direct clinical practice supporting health and wellness and family systems as a Health Social Worker. Amity has been a field instructor for many years in her 12 years of experience as a Pediatric Oncology Social Worker at Children's Hospital Colorado and was co-chair of the Children's Hospital MSW intern program. Amity has also worked as a Clinical Social Worker at University of Colorado Hospital in their Oncology department, as a Children and Families Social Worker in Scotland working in child welfare and also as a Foster Care Treatment Coordinating, helping to coordinate mental health services for foster care youth here in Colorado. Amity has also spent five years as an adjunct faculty member prior to joining GSSW as a full time Clinical Assistant Professor.

Through Amity's clinical work, she developed specific interests in best clinical practices in pediatric healthcare and through the life span, disenfranchised and professional grief, trauma informed care, caregiver stress through the life span, palliative and end of life social work support, health disparities of marginalized groups, Vicarious Trauma, and sustainable resiliency of interdisciplinary providers.

Amity is an active member of the Council of Social Work Education (CSWE) and she is also a board member of the Colorado Society for Clinical Social Workers (CSCSW). Amity teaches in both the foundation and concentration curriculum with focused work within the Health and Wellness concentration.
Degree(s)
MSW, University of Denver, 2001
BA, Sociology, Indiana University, 1998
Licensure / Accreditations
Licensed Clinical Social Worker (LCSW)
Professional Affiliations
Council on Social Work Education (CSWE)