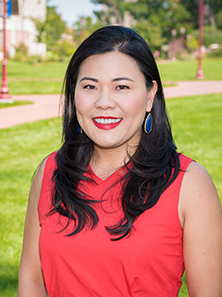 Amy He
Assistant Professor
Faculty
Graduate School of Social Work
Butler Institute for Families
What I do
My approach to teaching and research stems from this lens: social work equals social advocacy.
Concentrations
Specialization(s)
addictions and substance use, child welfare, leadership and organizations, mental and behavioral health
Professional Biography
Assistant Professor Amy He has over 13 years of clinical and research experience working with children and families involved in the child welfare system. As a clinician, her direct clinical experience included working with child welfare-involved children and families in different capacities, including as an adoption worker, an emergency response worker and a sexual abuse therapist.

He's current research agenda focuses on cross-system and interagency collaboration between child welfare and specialized service providers, including those operating in substance abuse treatment, mental health and family courts. She approaches child maltreatment prevention and intervention from a systems perspective. Her work on child abuse and neglect research incorporates quantitative and mixed methodology, secondary national survey data and the collection of primary data at the county, state and national levels.
As an assistant professor at the Graduate School of Social Work, He is currently building a research program focusing on child maltreatment prevention and intervention efforts at the local community level, with an emphasis on collaboration and engagement with community stakeholders and service providers.
Degree(s)
MSW, California State University, Los Angeles
PhD, University of Southern California
Licensure / Accreditations