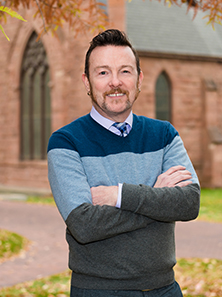 What I do
For me, social work education, practice and research are all driven by a deep sense of commitment and passion to a vision of the world where justice is lived out in our day-to-day experiences. Challenging myself and my students to embody this call to justice excites me about this work and fills me with hope.
Concentrations
Specialization(s)
culturally-responsive practice, gender, LGBTQIA, marginalized populations, research methods, social justice
Professional Biography
Professor Eugene Walls' research, teaching and service all converge around the goals of documenting and challenging marginalization in social work practice and education, and addressing and preventing negative outcomes for populations that experience marginalization. These goals have centered primarily on understanding the lesbian, gay, bisexual, transgender and queer (LGBTQ) community, but have also addressed issues of ableism, sexism, racism and, more recently, intersectional lived experiences. 
While Walls is influenced by critical theoretical perspectives, including post-modernism, queer theory, feminist theory and intersectionality theory, and by a social constructivist approach to epistemology, he nonetheless uses primarily quantitative approaches to understanding the phenomena that he's examining. As such, he situates himself (in terms of my philosophy of science) as a critical realist with post-positivist leanings. He seeks to understand how social facts map onto reality, even as he understands reality as contextually and culturally dependent and as situated within a specific historical time period.
Walls' teaching has addressed these overarching goals by teaching and developing courses focused on power, privilege and oppression, educating students on conducting research that attends to issues of multiculturalism, mentoring doctoral students who embody identities that are underrepresented in the social work professorate, and supporting doctoral students whose work centers on a critical approach to social justice.
Degree(s)
MSSW, University of Texas at Austin
PhD, University of Notre Dame
Media Sources