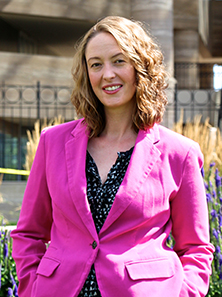 Jennifer Bellamy
Professor, Associate Dean for Research and Faculty Development
What I do
Despite the clear impact fathers have on their families, most child and family services do not well engage men as parents. We have a tremendous opportunity, and obligation, in the field of social work to support the well-being of children and parents by serving the whole family with effective interventions.
Concentrations
Specialization(s)
child welfare, families and family systems, gender, research methods, social justice, veterans and the military, violence
Professional Biography
Jennifer Bellamy is a professor and associate dean for research and faculty development at the Graduate School of Social Work at the University of Denver. At GSSW she teaches research and theory courses at the master's and doctoral levels. She received her master's of science in social work from The University of Texas at Austin in 2000. Before earning her Ph.D. she worked as a crisis counselor and a project coordinator for a multisite demonstration project serving young, unmarried, low-income fathers. Bellamy completed her PhD at the Columbia University School of Social Work in 2006 and postdoctoral training at the George Warren Brown School of Social Work at Washington University in Saint Louis in 2008.

Bellamy's current research interests include the engagement of fathers in child and family services, child welfare and evidence-based practice. She published extensively in the area of evidence-based social work practice and is currently engaged in the development and testing of interventions to better serve fathers in child and family programs including home visiting and parent training.
Degree(s)
MSSW, University of Texas at Austin
PhD, Columbia University
Media Sources