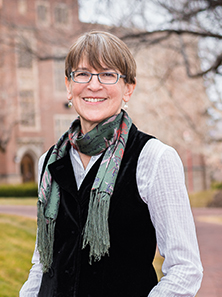 Nicole Nicotera
Professor
What I do
It is a joy to teach future social workers and social work researchers as they embark on their journeys as agents of change and social justice. Working with MSW students by engaging them in hands-on experiences with practicing social work skills and in finding their own paths toward maintaining health and wellness is incredibly gratifying. Challenging PhD students to use both qualitative and quantitative research methods to answer their important questions about social problems and social injustice is wonderful.
My goal as a professor is to support all students in finding their unique paths in social work practice and/or research so they can be part of making the world a more just place.
Concentrations
Specialization(s)
civic and community engagement, clinical social work, culturally-responsive practice, health and wellness, research methods, school of social work, social justice
Professional Biography
Professor Nicole Nicotera, PhD, LICSW, has a long history of clinical social work practice with children, youth and families, and with using creative arts and experiential therapies in the process of facilitating healing. In the MSW program, she teaches clinical interviewing skills and mind-body social work practice. She is committed to health and wellness for practicing social workers.
Nicotera's research and scholarship focuses on...
promoting health and well-being across the life span
civic engagement and mindfulness practices as pathways to well-being
measuring civic development and civic engagement
interventions to enhance civic leadership and positive youth development
the role of risk, protection and resilience in health
the issues of unearned privilege and oppression in social work practice, education and research
Nicotera has expertise in conducting and publishing quantitative, qualitative and mixed methods research. Her foray into mixed methods research began in 2001 with a mixed methods dissertation at the University of Washington, where she completed her PhD in social welfare research.
In addition to her role as PI on research grants and related publications, she has been supervising and mentoring students in mixed methods data collection, analysis, interpretation, peer-reviewed conference presentations and publications. She also mentors doctoral students in mixed methods dissertations and independent studies to support their preparation of mixed methods dissertation proposals.
Degree(s)
MSW, University of Washington, Seattle
PhD, University of Washington, Seattle
Licensure / Accreditations
Media Sources