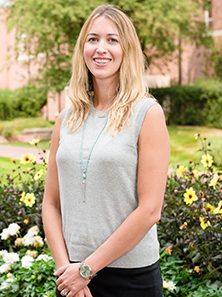 Rachel Forbes
Associate Professor of the Practice of Social Work, Western Colorado MSW Program Director
What I do
I am proud to represent social work in Western Colorado. Issues of social and environmental justice in our rural and mountain communities are important.
Specialization(s)
community organizing and community development, environment, field education, higher education, international social work/global practice, technology
Professional Biography
Associate Professor of the Practice Rachel Forbes, MSW, launched the Western Colorado MSW Program in 2013. Since then, she has lead the development and implementation of a program which has graduated over 75 MSW students from across the region. Forbes serves as co-chair for the Council of Social Work Education Committee on Environmental Justice and collaborates with a number of local and regional boards on behalf of the Western Colorado MSW Program.
Degree(s)
MSW, International and Community Development, Monmouth University, 2011
BA, Psychology, Spanish, Loyola University of Maryland, 2008
Licensure / Accreditations
Career Development Facilitator (CDF)
Professional Affiliations
Council on Social Work Education (CSWE)
Research
Rachel's scholarship and research focuses on the intersections of environmental justice, sustainability, and social work practice.
Presentations
(2018)
.
Teaching environmental justice through social media in a rural MSW program
.
CSWE APM 2017
.
Dallas:

CSWE
.
.
(2019)
.
Intersection of Ecology with Social and Environmental Justice: Historical Context to Action
.
CSWE APM 2019
.
Denver:

CSWE
.
.
(2019)
.
The Evolving Landscape of Field Education
.
CSWE APM 2019
.
Denver:

CSWE
.
.
(2015)
.
Ecological Justice: Social Work Education Creating Change On and Off Campus
.
Conference for Social Work Education (CSWE) APM
.
Denver, CO:

CSWE
.
.
(2016)
.
Administrative Strategies for Faculty Management: motivating and incentivizing online and distance instruction
.
Social Work Distance Education Conference
.
Indianapolis, Indiana:

University of Indiana School of Social Work
.
.