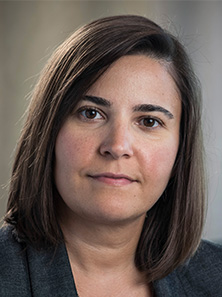 Sophia Sarantakos
Assistant Professor
What I do
I'm working to build a world where harm and need are approached with collective care, and where the death-making ideologies and systems of racial capitalism, settler colonialism, and white supremacy are refused. The focus of my research is to reduce the size, scope, and power of the prison-industrial complex (PIC). I bring the liberatory framework of PIC abolition into every class that I teach, and am dedicated to helping us all unlearn the dangerous mythologies we've been taught so that new ways of knowing and being can take hold.
Professional Biography
Prior to entering academia, Dr. Sarantakos [she/they] was a social work practitioner for ten years. During that time, they developed and directed the first jail diversion program in the state of Louisiana, housed in the New Orleans public defenders office. This professional experience, along with their personal experiences with school pushout, the juvenile legal punishment system, and the incarceration of a loved one, helped lead them to a politic focused on root causes.

Dr. Sarantakos' work is focused on how professionalized social-change workers, and the organizations and institutions in which they are situated, can seize white social work—the lineage of the profession that's been legitimized by people in power, taught and practiced most widely, and caused the most harm—and shape it into a tool in service of an abolitionist horizon. A central application of these abolitionist principles is Dr. Sarantakos' transformation of social work education into, as bell hooks calls it, "the practice of freedom." One of the many ways they engage in this practice is through their course "Creating New Anchors: An Introduction to Prison-Industrial Complex Abolition," which they developed for and teach to MSW students.

As part of their organizing work, Dr. Sarantakos co-created the Abolitionist Social Change Collective (ASCC), which is a virtual space for people engaged in all forms of (un)paid social welfare and social-change work to: (1) build a community of people who exchange ideas and develop abolition-focused collaborations; (2) advance non-carceral approaches to harm, accountability, and well-being; and (3) work toward a more solidarity-focused form of social-change work.
Degree(s)
Ph.D., Social Service Administration, University of Chicago, 2020
MSW, Social Work, Tulane University, 2006
BS, Business Administration, Marist College, 2004