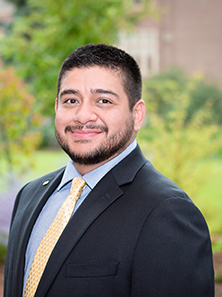 Stephen von Merz
Clinical Associate Professor
What I do
As a Latino social worker guided by passion and principle, led by integrity and diplomacy, I am committed to helping students create meaningful and sustainable change where liberty and justice for all has yet to become reality. For me, this includes educating future social workers on the knowledge, skills and values critical to establishing equity and access for all.
Specialization(s)
children and youth, clinical social work, criminal justice, culturally responsive practice, families and family systems, international social work/global practice, latina/latino populations, LGBTQIA, mental and behavioral health, social justice
Professional Biography
Clinical Associate Professor Stephen von Merz serves as the coordinator of the Family Systems Practice concentration. With professional experience that includes over 20 years of bilingual (English/Spanish) clinical social work practice in a number of clinical and community settings, he is highly practiced in implementing intensive in-home therapy and outpatient therapy that includes using empirically based models of treatment like structural family therapy, solution-focused brief therapy and multisystemic family therapy.

Von Merz provides bilingual clinical supervision and consultation with an emphasis on culturally responsive family therapy in social work practice and holds certificates in multisystemic therapy (MST), hand-drumming therapy with psychotherapy and secondary trauma resiliency training.

As part of a collaborative partnership with faculty from DU's Graduate School of Professional Psychology, von Merz is a member of the Colorado Resilience Collaborative (CRC) developed to address identity-based violence. The CRC is an interdisciplinary initiative that addresses those impacted by identity-based violence due to radicalization and discrimination based on race/ethnicity, nationality, faith and ideology. The program works to mobilize efforts that support insight, healing and action at individual, family, organizational and community levels.

Von Merz also worked closely with the mental health treatment team at Mount View Youth Services Center as a contract therapist, and in developing a therapeutic mentoring program for residents. He also worked with paroled youth involved in the Colorado Division of Youth Corrections.
Degree(s)
MSW, Families Track, University of Denver, Graduate School of Social Work, 2003
BS, Psychology, Texas Christian University, 1997
Licensure / Accreditations
Gottman Method Couples Therapy Levels 1 and 2 Certificate
Licensed Clinical Social Worker (LCSW)
Hand Drumming Therapy with Psychotherapy Certificate
Secondary Trauma Resiliency Training Certificate
Social Work with Latinos/as Certificate
Multi-Systemic Therapy (MST) Certificate
Professional Affiliations
Council on Social Work Education (CSWE)
National Association of Social Workers (NASW)
Awards
Excellence in Mentoring GSSW Students Award, Univ. of Denver, Graduate School of Social Work
CME's Excellence in Mentoring Students of Color, Campus Life and Inclusive Excellence's Center for Multicultural Excellence (CME) Graduate Student Success
Faculty Career Champion, DU ADVANCEMENT Career & Professional Development
Phi Alpha Honor Society for Social Work, Honorary Phi Alpha Member Award, Phi Alpha (Xi Delta Chapter), Graduate School of Social Work
Kay M. Stevenson Faculty Citizenship Award, Dean Amanda Moore McBride, Graduate School of Social Work