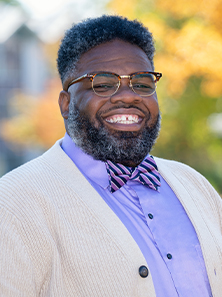 Tyrone Christopher Hamler
Assistant Professor
303-871-3068 (Office)
Craig Hall, 2148 South High St. Denver, CO 80208
What I do
My research is focused on health inequities, chronic illness, aging, and the intersection of mental and physical health. My work also focuses on health equity in kidney disease for older African Americans, who experience double jeopardy by way of being older and being members of an historically excluded group.
Specialization(s)
aging and gerontology, health and wellness, racial justice, social justice
Professional Biography
Dr. Hamler's research is informed by years of direct practice social work experience in multiple health care settings and motivated by the pursuit of health equity. He is a first-generation college graduate who endeavors to mentor students from similar backgrounds.

His research seeks to advance health equity from a practice and a policy perspective. His teaching promotes diversity by challenging long standing methods of direct social work practice and engaging in dialogue about how to partner with individuals and families to implement more conscientious methods of direct practice based on reflective and anti-oppressive social work practice.
 
Degree(s)
BA, Social Work, University of Cincinnati
MSW, Health and Aging, University of Cincinnati
Ph.D., Doctor of Philosophy in Social Welfare, Case Western Reserve University
Professional Affiliations
Other
Other
Other
Society for Social Work Research (SSWR)