Animals and Human Health Instructor Spotlight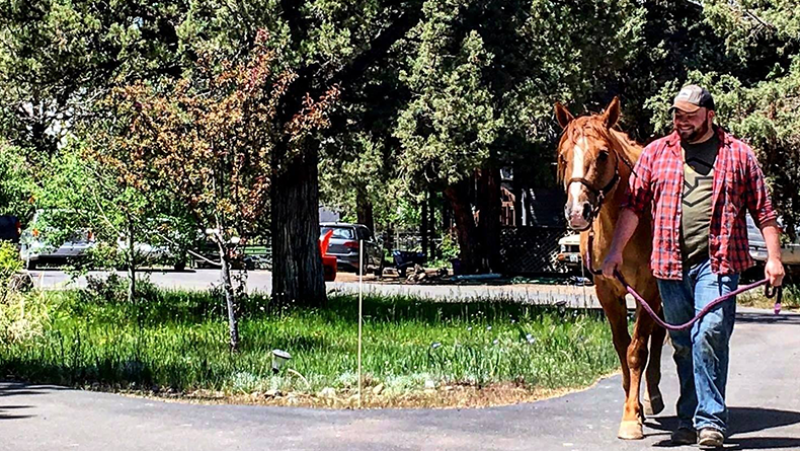 The Animals and Human Health (AHH) Certificate program has been educating animal-assisted interaction professionals since 2005, which makes it one of the most established programs of its kind. However, AHH is continually growing and changing in order to offer the highest quality professional development in this field. We're excited and proud to announce Adam Clark as our newest adjunct faculty member in this program!
Adam Clark is a Licensed Clinical Social Work (LCSW) graduate from the University of Denver Graduate School of Social Work where he received his Animal-Assisted Social Work (AASW) Certification through the Institute for Human-Animal Connection and specialized in Family Systems work. After graduating Adam focused his career on grief and loss, with a specialization in understanding pet loss and its effect on human-animal relationships. In addition, his career has included human hospice social work, crisis intervention and pediatric social work.
Adam's love for horses, dogs, and many other animals has led him to integrating animal-assisted interventions into his work with people. His current private practice Head, Heart & Hooves Counseling (HHH) was founded on a mission of creating accessible alternatives to traditional talk therapy where he offers Equine Assisted Therapy (EAT) in the beautiful setting of Bend, Oregon.
In addition, Adam is the founder of Pet Loss Education Project, which focuses on reducing the cultural stigma associated with pet loss. Adam educates and supports veterinary professionals within his practice in self-care strategies, time management, communication techniques, clinic growth, and personal/professional balance. Most recently Adam has been involved in consulting roles with the American Humane Society, American Veterinary Medical Association, as well as Barkbox. As part of the Pet Loss Education Project, Adam has reached nearly one million readers within his online column for Psychology Today, Animal Attachment.
Adam has been teaching with the University of Denver's Graduate School of Social Work since 2016. The Animals and Human Health program is thrilled to benefit from Adam's unique and varied experience. Adam currently teaches Orientation to Animal-Assisted Interventions and Animal Partners in Animal-Assisted Interventions.
Explore all the benefits of the AHH program and learn about our other experienced adjunct faculty members on our web site.