Alexandria Forte, MSW '16
Blending case management and program management in a hospital setting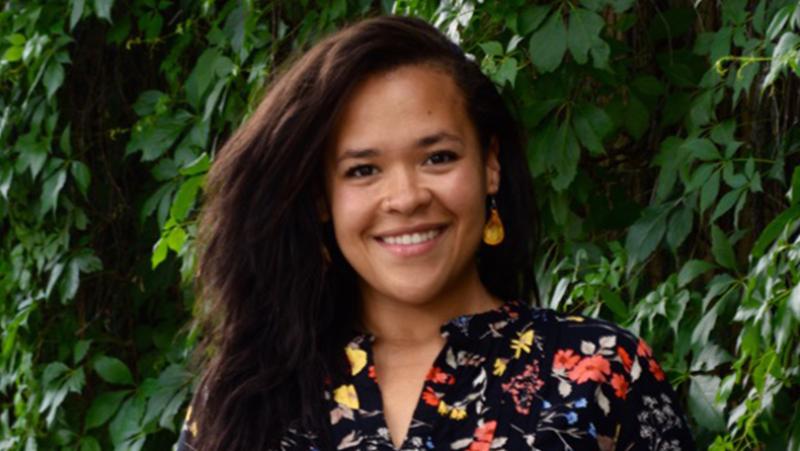 Although she works for a hospital, Alexandria Forte isn't a traditional hospital social worker. She is program manager of the Denver Health FACES for the Future high school pipeline program. She also serves as an At-Risk Intervention and Mentoring (AIM) social worker. It's a complex dual role, but one for which, she says, the Graduate School of Social Work (GSSW) MSW pathway in Health and Wellness prepared her well.
FACES is a partnership between Manual High School, Denver Public Schools and the Denver Health System. In its first year, the program has provided wellness support, internships, community engagement and leadership development for 12 students who have three 6-week rotations in a variety of hospital departments. Students shadow in areas including OB-GYN, emergency medicine, radiology, ultrasound, paramedics, surgery and social work. Forte coordinates the internships to fit each student's interests and skills. The program is so successful, it'll expand to accept 15 additional students in the 2018–19 school year.
As an AIM social worker, Forte works on a Department of Justice research study to learn more about youth injured by violence. Forte and other AIM caseworkers see all youth ages 14–24 who come into Denver Health for a stabbing, gunshot wound or assault. Case management continues once the youths are back in the community with the goal of decreasing injury recidivism.
Forte has a multifaceted role, and she decided to attend GSSW because it offers a multifaceted education. When she started graduate school, Forte wasn't sure what her specialty would be, but she knew she loved working with youth. "GSSW allowed me the space to explore a variety of different paths before choosing what was right for me," Forte says. "I have worked at hospitals for most of my professional career, and I loved that GSSW gave me the ability to combine my love of working with youth and being in a hospital."
Forte's faculty, field education experience and classroom education worked together to prepare her for her career. "It was helpful to be able to make mistakes and learn without the pressure you would have if your internship were your real job," Forte says of her first- and second-year field placements. "I feel confident now that I can excel in my current role."
Forte also credits her professors for her preparation. "Every professor I had — with their variety of experience and knowledge — showed me the true diversity that the social work profession provides. I knew the phrase 'You can do whatever you want with a social work degree,' but to see it in practice was different."
"I am not in a traditional hospital social worker position, but the knowledge I gained in the pathway gave me a better understanding of the importance of health in all settings," Forte adds. "I have even incorporated some of the wellness techniques and resources I learned in classes with my students."