Prof. Kate Ross explores the impact of community art on community voice and connection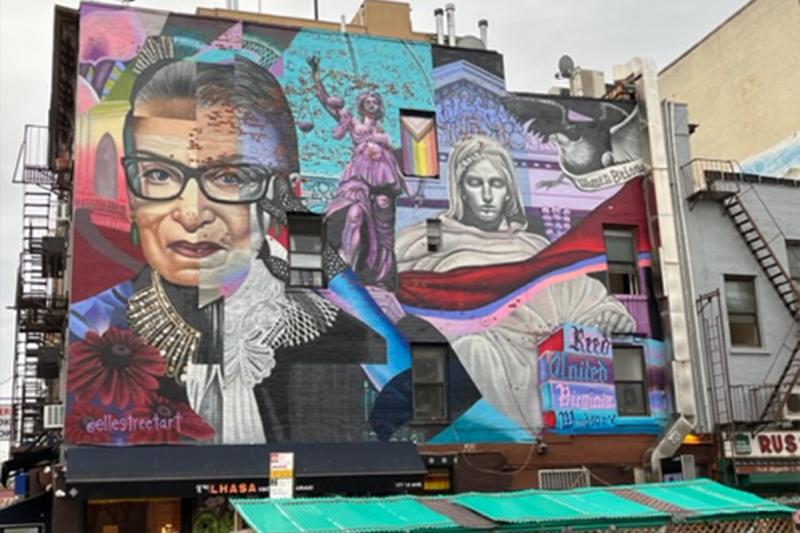 As a form of communication that transcends words and time, art can be a powerful catalyst for conversations about justice and identity, says University of Denver Graduate School of Social Work (GSSW) alumna and Professor of the Practice Kate Ross, MSW '97. 
During a recent sabbatical, Ross explored the impact of community art on community voice and connection. Over three months, she explored art in New York City, Philadelphia, Kansas City, and Denver, as well as in New Haven, Connecticut, interviewing residents and artists about the artwork in that environment. 
The idea for Ross's recent sabbatical project was sparked when she went out to dinner on Denver's Westside and saw a mural of the Virgin of Guadalupe. "I got this sense of neighborhood, culture, representation. It's telling me this story and in an instant, I'm experiencing all of this meaning making," says Ross, who directs the Denver Campus MSW program.  
In New Haven, most of the art Ross saw was sanctioned. "It felt like segregated art — a voice being controlled by these projects and partnerships," Ross says, noting that there was a noticeable nature theme in the sanctioned murals rather than expressions of different voices or experiences. Yet, Ross says, these images were reflective of the environment surrounding the city.
"What makes art such a powerful tool for learning?" Ross asked New Haven artist Susan Canard, who uses sculpture to work with students. "Art conjures up feeling, and students want to make meaning of what they are experiencing," Canard answered.
New York was a study in contrasts. In affluent areas, the only visible artwork was on billboards and in store windows. "It was very cold and capital-y, like the Hunger Games," Ross observes. But in Chinatown, "there was art everywhere — art oozing out of the subway, on the trashcans, on the big giant dumpsters, on the railings."  
The more impacted and intersectional a neighborhood was regarding race and class, opportunity and power, the more art Ross saw. "I started thinking about people using art as a voice to express themselves when it isn't being heard in other spaces," Ross says. 
A mural in the Argentine neighborhood of Kansas City, Kansas, tells the community's immigrant history.
Read More
In Philadelphia, the artwork reflected the people, place, and time, race and conflict, human triumph and history, Ross says, noting that the city has one of the nation's best-funded and successful mural arts programs. She interviewed people on the street about the artwork in their area and found a shared sense of community ownership of the artwork. 
Ross ended her three-month tour in Kansas City, where she viewed a mural that spans a city block and tells the story of immigration in the Argentine neighborhood. As you walk around the panels, "It's a story unfolding," Ross says. "It has the history of these immigrants, their fight." Residents communicated pride of ownership in the artwork, which they saw as a tribute to their history.  
One person may like a piece of art and another may not, but art, Ross says, creates "a third space between us that we can share and use as a jumping off point" for conversations across different identities. Eventually, Ross plans to create a social work class on art and justice. "Art tells a story of palette and place. It can be a tool to reflect many voices at once," Ross says. "With art, it is easier to dialogue across difference."