Balancing Accountability and Empathy
Becoming a social worker has helped U.S. Air Force Major Kari Jukkola, MSW '23, to be a better leader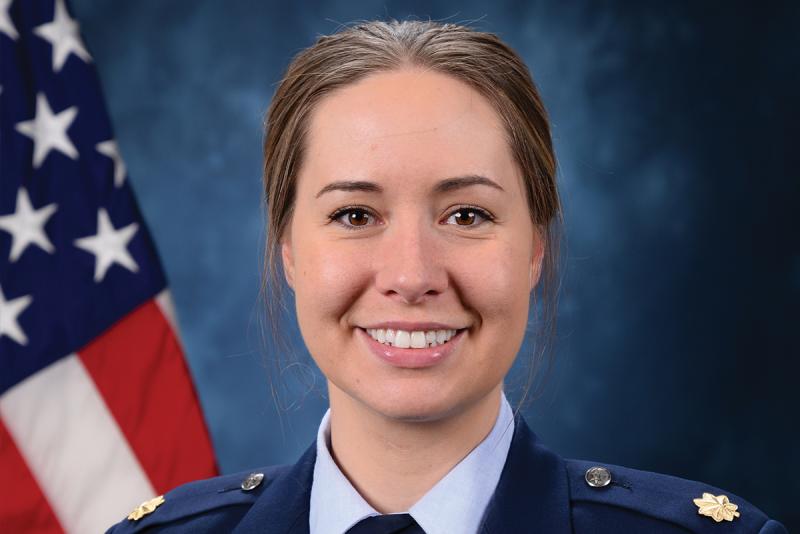 Several years ago, U.S. Air Force Major Kari Jukkola had an epiphany: She hated her job. Although she loved flying, the C-17 Globemaster III pilot and flight instructor was burned out.
As a commander and now as an instructor at the U.S. Air Force Academy, Jukkola has been working to change military leadership culture to promote balance and well-being and avoid burnout. She shared her experience and wisdom in a recent TEDxUSAFA talk, "Leading in a Burnout Culture."
"I hit a huge struggle point in my life. I had experienced so much loss and disappointment, yet there weren't a lot of avenues to get support and recover from such struggle," recalls Jukkola, who earned her MSW this spring from the University of Denver Graduate School of Social Work (GSSW). "What I realized in the process is that struggle is part of the human experience. But what we don't do well is learn how to struggle successfully."
To cope with her own struggles, including the sudden death of her older brother, Jukkola sought therapy and ended up seeing a social worker. That experience sparked her interest in social work, she says. But within the military, there is stigma against seeking mental health help, she notes. "I know so many other pilots who don't seek help because we're afraid of what it will do to our flying status or our career."
At the Academy, Jukkola works with cadets ages 17–24. "They're at that time in their lives when they learn to lean into the discomfort of growth and how to get back up after adversity," Jukkola says. "My passion moved beyond just helping other pilots. I want to help people struggle successfully." With a master's in social work, she realized, she could do just that.
Jukkola enrolled in the MSW@Denver online MSW program, where she specialized in mental health and trauma. She says becoming a social worker has helped her to be a better leader and commander. "We have to balance accountability with empathy. There has to be accountability — we're warfighters. And at the same time, we lead people, and people are human beings — messy and complex. There has to be empathy mixed in," Jukkola says. "When we find the right balance between accountability and empathy, it can only help our mission. Becoming a social worker has helped me to pursue that balance."
Jukkola's Concentration-year internship was with the Academy's Peak Performance Center, which is similar to a university counseling center. There, Jukkola helped students learn to successfully navigate the demands of the Academy, military culture and life — to find that balance she advocates for.
Jukkola has had to put those same lessons into practice in her own life. Last year, she took a bad fall while hiking, breaking several bones and requiring a nine-hour rescue. While she was still recovering from that fall, Jukkola's younger brother died.
"When my older brother died years ago, I was forced to keep moving. This time when I fell and lost my younger brother, there was grace," Jukkola says. "I talk about that balance between accountability and empathy. GSSW found a way to allow the space for empathy while still holding me accountable to meeting course requirements."
"When my younger brother passed away, I had to take that step back and ask, 'What do I need in this moment?'" Learning to know what we need and how to ask for it is a difficult lesson, Jukkola says. "It was easier for me to learn because the University of Denver was willing to help navigate that balance. I can't tell you how much I appreciate that."
Although Jukkola says she loves the military, when her current service commitment ends in spring 2024, she plans to serve in another way — ideally as a social worker with the Department of Veterans Affairs.
Meantime, she continues working to help other Air Force personnel successfully meet the challenges life brings and better support others. Tell someone when you're hurting, she advises, and seek help.
The balance between accountability and empathy isn't just needed from a military commander, Jukkola notes. "You need to offer it for yourself, too. When life happens and you realize you're human, you can offer empathy for yourself," she says. "When you learn to apply that balance to your own world, it's easier to see and address the needs of other people. That's true whether we're social workers, flying aircraft or commanding troops."