Collective Community-Building
Faculty member and former student are transforming the community through 'restorative reciprocity'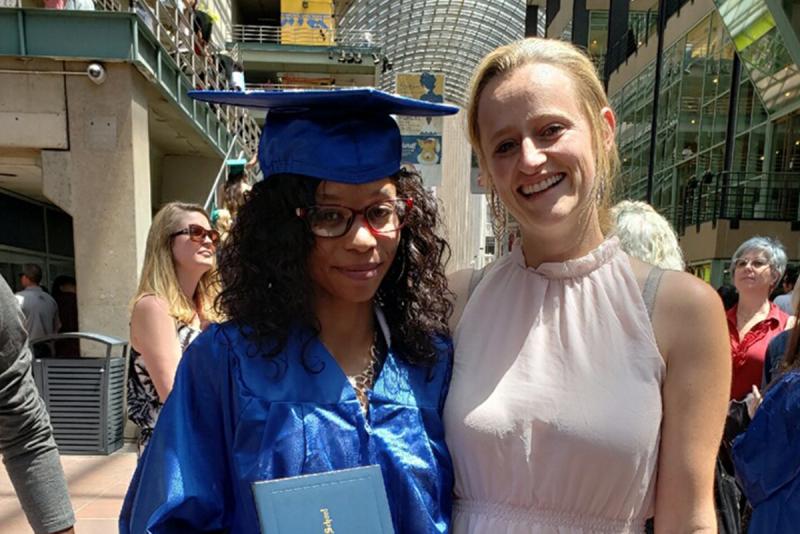 Alumna Renata Heberton, MSW '10, sees collective community-building as a potential antidote to injustice and oppression. "For those who face hardships, there's a fundamental need that's not being met — sustained relationships, community and belonging," she says.
When she enrolled at the University of Denver Graduate School of Social Work (GSSW), Heberton was already thinking about how to meet that need. In a program development course taught by Jean East, Heberton drafted the idea for a reciprocal, intentional community to create both visible and invisible webs of support, then she collaborated with East on an independent study project to further hone the concept.
In 2015–2016, Heberton purchased two homes to support the start of the Angelica Village community. Today, the village includes a foster home for unaccompanied refugee and immigrant youth, an independent living home for young refugee/immigrant adults and supportive housing for individuals and families exiting homelessness. The community includes about 10 households (about 40 people ages 2 months to 72 years) and provides financial support, rental assistance, food, clothing, transportation, access to education, tutoring, mentoring, childcare, enrichment opportunities, advocacy, connection to health and health care, and support in developing and working toward long-term goals.
"We're not a typical nonprofit that's open 9 to 5," says East, now a professor emerita. "We wrap around community members in a way that we never give up on anyone. We have a philosophy that everyone gives what they can and gets what they need."
That concept of restorative reciprocity cultivates and nurtures webs of support that can be sustained long term, providing individuals with the social capital and well-being they need to live a safe and fulfilled life, Heberton explains. "We tell youth we're their forever people."
"Self-sufficiency is a buzzword in a lot of social services programming, but when I see people who are 'self-sufficient,' I see both invisible and visible support networks that are always there. That web of support often doesn't exist in the lives of people who only have access to traditional programs," Heberton says. "People need somewhere to go for support, in moments of unexpected crises that occur after traditional nonprofit hours, and someone as committed as they are that returning to homelessness is unacceptable."
Read a recent interview Renata Heberton about Angelica Village
Read More
"Angelica Village is about restoring community based on the belief that none of us make it without the support of community," adds East, PhD '95. "You have to be there for all the emergencies, not just rental support and food — it's all the little disruptions that can impede people from moving on from reaching their goals."
East chairs the Angelica Village board of directors, serves on the management team and is a community support member. Her role includes consulting with Heberton, writing grants, networking in the community and tutoring refugee youth who are attending college.
"I can be doing strategic planning one hour, then watering plants with a 4-year-old the next," East says. "It is so meaningful to me that I'm part of this community of people that really cares for one another."
Nominated by former GSSW faculty member Cathryn Potter, PhD '95, now dean of the Rutgers School of Social Work, East was a 2020 recipient of the Elizabeth Hurlock Beckman Award. Presented to a small number of professors each year, the $25,000 award recognizes educators who have inspired their former students to create an organization or movement making a significant difference in the community. East was honored for her impact on Heberton and Angelica Village.
East says the award was the culmination of her social work career. "Over the years I have been blessed to have many wonderful opportunities, but this award recognized a very significant role for my work as a social work educator — mentoring students to go on and continue the work."