Creating Community Change
After nearly 40 years working as a community organizer, alumnus Mike Kromrey remains captivated by community change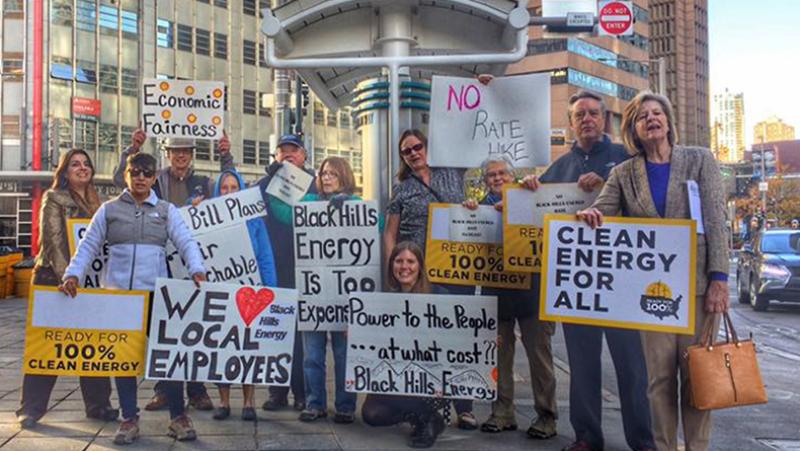 Mike Kromrey didn't expect to spend his career as a community organizer. Often the vocation of college students and recent grads, community organizing comes with long hours and low pay, challenging social and political issues, and usually involves more losing than winning.
But after nearly four decades as a community organizer — including 30 years directing community organizations — Kromrey is still energized by his work.
"If you ask any organizer who stays in social change, one of the big things that sustains them is the people," says Kromrey, MSW '80, executive director of Together Colorado. "It's almost always the people we meet and inspire us, people who we are training and developing as leaders in their communities to have their own voice. Those relationships become very deep; this work changes your life."
Together Colorado is a nonpartisan, multi-racial, multi-faith community organization that helps people transform their communities through community organizing. Comprised of more than 60 congregations, schools and youth committees and a growing state-wide clergy network, Together Colorado — a member of the PICO National Network — is "building an alternative moral and democratic voice in Colorado through a racial and economic lens." The organization's work spans issues as diverse as clean water, immigration, criminal justice reform and health care.
Discovering community organizing
When he started his studies at the Graduate School of Social Work (GSSW), Kromrey didn't know what community organizing was; he thought he'd be a psychotherapist. But during his first-year field placement with Catholic Community Services, he landed in a public housing development. "They didn't need psychotherapy — they needed organizing. So, I started door-knocking," Kromrey says.
His mentor at GSSW was Associate Professor Jules Mondschein. "He was always pushing social workers to get out of their cubicles and find out what the community needs," Kromrey recalls, "so that's what I did." "Something about working with people — about their strengths, about building change in the community — really captured me. Thinking about changing the world at a systemic level, changing larger groups of people, their lives, thinking about power and politics, religion and faith — those ideas captured me and have fed me all this time," Kromrey says. "[Community organizing] was a place where everything I cared about could be fulfilled in a professional setting."
When he graduated from GSSW, Kromrey was hired by Catholic Community Services to work with the Metro Organizations for People (MOP, now known as Together Colorado). He eventually became director of MOP and Congregations Building Community, a community organization in Northern Colorado. In addition to heading Together Colorado, Kromrey also serves on the national staff for PICO, a national network of faith-based organizations.
"It can get very lonely leading organizations," Kromrey says. "If I hadn't had a regular resource [in the PICO National Network] all those years, I don't think I would have sustained."
But the work is never boring, Kromrey notes. "I'm spiritually challenged, inspired, agitated in a way that prevents burnout. It keeps me in the game."
Organizing as social work
As social workers, Kromrey says, "Much of our work is very siloed; the divide between direct service and social change has hardly been dented." But there's a contribution to be made by all the people in the helping professions, he says. "Think about clients as 'actors.' How do you link them in to having a voice when things like food stamps or Medicaid are going to be cut? On the activist side, we don't always have access to these stories.
"Social workers are incredibly connected, but there's a big gap between advocacy, organizing and those dealing every day with the needs," he continues. "Social work schools need to think about how those are so siloed. I hope that academia — the side that cares about social change — is instilling an intense curiosity about what is and isn't working, an entrepreneurial spirit about trying new things."
The need to evaluate systems — what's working, what's not — isn't limited to higher education, Kromrey says. Community organizations must do the same work. "I find defeat — you lose a lot in social justice — inspires me to innovate and try new things. I probably couldn't stay if it felt like we were always doing business the same way."
Looking ahead, Kromrey says, "How do we think about an alternative narrative about what our state should be like, instead of focusing on issues? How do we imagine work over three, five, 10 years that leads up to a larger structural change and positions us to tackle some of the bigger problems in Colorado?"
"People in Colorado want to get involved," he adds. "We could change people's lives. Not every state can say that."
Know an activist looking to pursue a career in community organizing? Learn more about GSSW's Organizational Leadership & Policy Practice MSW concentration.