Butler Institute evaluating family visitation programs in Alaska's Mat-Su community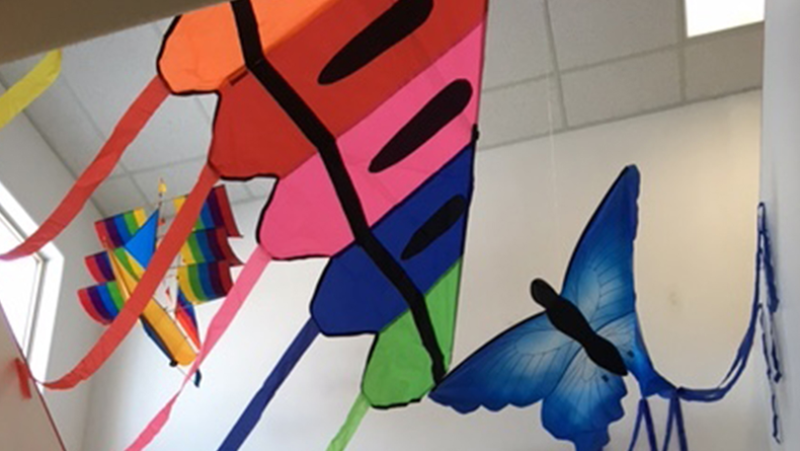 This is a photo of the entry to The Family Center in Palmer, Alaska. The Family Center is a family contact resource agency that is part of Alaska Family Services. The Director, Sonya Hall, created this welcoming entry so that parents could "follow the rainbow" to supports and services that will help their family. The entryway was designed to be intentionally welcoming to parents.
Imagine your toddler is in foster care and you show up for a short weekly visit only to find you've been told the wrong place and time, and you miss the visit.
"That's heartbreaking," says Carole Wilcox, interim executive director for the Butler Institute for Families at the Graduate School of Social Work, noting that poor communication around visitation is one challenge facing the child welfare system in Alaska's Matanuska-Susitna (Mat-Su) Borough.
In January 2017, the institute partnered with Raising Our Children with Kindness (R.O.C.K.) Mat-Su and the local Office of Children's Services to evaluate their strengths and challenges around family visitation for kids in out-of-home care.
"The research around successful reunification of children with parents shows that the number one indicator of success is the frequency and quality of contact while a child is in out-of-home care," says Wilcox, project principal investigator. "The borough was going down the path of creating a Safe Babies Court and realized they needed to examine and improve family contacts for kids in care first."
A Safe Babies Court is an evidence-based community engagement and systems change initiative to improve how the courts, child welfare agencies and child-serving organizations work together on behalf of young children in foster care. A judge convenes the Safe Babies Court Team, which includes other judges, child welfare staff, attorneys, service providers and community leaders.
The R.O.C.K. Mat-Su evaluation includes a survey, structured interviews, literature review and analysis of secondary data from the borough. The Butler Institute will make data-based recommendations that are specific to the different players involved in family contacts, Wilcox says, whether that's judges and attorneys, child-protection staff, foster-care providers or agencies that arrange family visits. Survey design is underway now, and the Butler Institute project team already has conducted structured interviews with eight lead agency representatives and eight legal partners, including the convening judge.
"We're also going to be able to hear from parents what their experience has been, and that's really exciting," Wilcox says. The institute team is interviewing tribal representatives from the Knik and Chickaloon nations as well.
Guided by its Model for Change, the Butler Institute creates tools, resources and systems that strengthen communities, programs and families. This includes program assessment, evaluation, planning and implementation, as well as training and coaching for child welfare workers and supervisors. The institute includes both a research and evaluation team, and implementation capacity. Wilcox says that's what drew R.O.C.K. Mat-Su, which had "looked high and low" for an institute that could both evaluate and implement.
"That's what's unique about us," Wilcox explains. "We evaluate, and then we use implementation science to implement what is learned. If we don't address all of the drivers behind implementation science — such as stakeholder buy-in from caseworkers — then there's a higher risk of project failure."
Wilcox joined the Butler Institute in May 2016, bringing 35 years of experience working at the community, county and state level in Minnesota's child welfare system. As director of organizational development and capacity building for the institute, Wilcox leads a 12-person team in a range of public and private child welfare agency initiatives funded through federal grants, foundation support and state contracts.
"This is my dream job — an opportunity to work with other states in developing and implementing best practices," says Wilcox, whose team is involved in projects in Colorado, Florida, Virginia and New York, among others. "To do work across states is really powerful."
In addition to Wilcox, the institute's R.O.C.K. Mat-Su evaluation team includes Director of Research and Evaluation Meg Franko, Research Associate Laricia Longworth-Reed, Research Assistant Andrea Westinicky, Program Assistant Eden Abraham and Training Specialist Missy Berglund. The evaluation will be complete at the end of July. The project's fast pace reflects the community's desire to not lose momentum to make positive changes, Wilcox notes.
"The judge managed to get 11 attorneys in a room together to talk to me, which is amazing," Wilcox says. "They're ready to make improvements for kids and families."
Support the Butler Institute's work to strengthen the systems, communities and programs that families need to thrive.