GSSW Associate Prof. Johnny Kim is studying the effectiveness of solution-focused brief therapy for those involved in the child-welfare and justice systems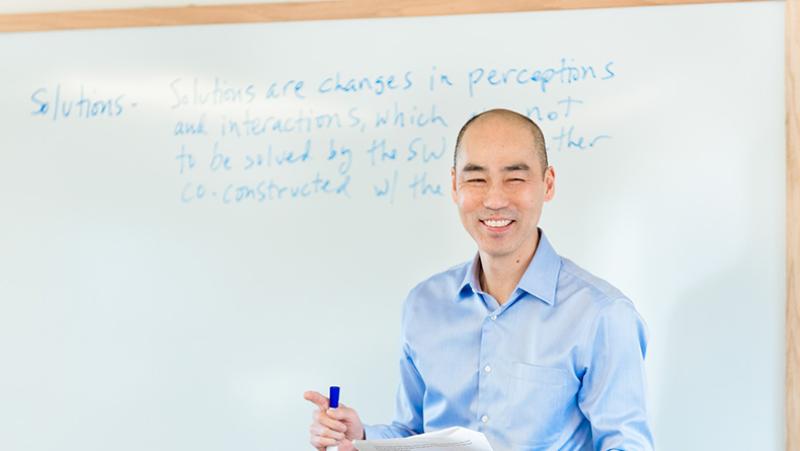 Most individual, couples and family therapy takes a problem-focused approach — delving deep to understand a problem over many sessions before beginning to address solutions. Graduate School of Social Work Associate Professor Johnny Kim advocates for a different approach for many clients: solution-focused brief therapy (SFBT), which, as the name implies, moves directly to solutions for a wide range of issues, including depression, addiction and trauma.
Because many clients require only 4–8 sessions, SFBT is less expensive to deliver than, say, cognitive–behavioral therapy (CBT) or psychodynamic therapy, but is just as effective for most clients. And for the client, Kim says, it fulfils the need for more immediate help and quicker resolution to their problems.
"We don't have to spend a lot of time discussing the problem. Instead, we jump right in to what the client wants their life to look like when the problem is gone," Kim explains. "We don't have to worry about uncovering the root cause of the problem. Instead, we focus on the preferred future self and what the client is doing different when they are at their best."
Improving outcomes for kids 
Kim is putting the effectiveness of SFBT to the test. In partnership with the Oklahoma Department of Substance Abuse and Mental Health Services and funded by a U.S. Department of Health & Human Services Regional Partnership Grant, Kim and co-investigators Jody Brook and Becci Akin of the University of Kansas School of Social Welfare are using a randomized controlled trial to investigate whether parents who received SFBT improved on both substance abuse and trauma outcomes compared to treatment as usual (CBT). For the study, they trained substance abuse and mental health counselors in SFBT. These clinicians had been using CBT and motivational interviewing, but in working with families who were involved in the child welfare system and whose children had been removed from the home, clinicians often felt "stuck" when clients didn't want to talk about problems. The trial followed 180 families involved in the child-welfare system over three months as half received SFBT and half received CBT.
Although data analysis is still underway, Kim says initial results show that SFBT is as effective as CBT for treating substance abuse, trauma, child well-being, parental stress and parental depression.
Ultimately, Kim says, the study's aim is to increase the well-being and improve the permanency outcomes for children affected by substance abuse, and to build on Oklahoma's collaborative infrastructure to meet the needs of families involved with both substance abuse treatment and the child-welfare system.
"The more tools we can give our clinicians, the better," says Kim, chair of the Solution Focused Brief Therapy Association research committee. "I want to train social workers to provide the most effective intervention out there to help their clients in the quickest amount of time."
Helping prisoners to stay out of jail 
In a second study, Kim is serving as co-investigator to Carrie Pettus-Davis, director of the Institute for Justice Research and Development and associate professor at the Florida State University College of Social Work and one of the nation's leading scholars on decarceration. The 5 Key Model for Reentry Program Demonstration Project aims to study and establish a model of reentry services that are individualized and effective at reducing recidivism, decreasing cost and fostering productive citizenship through improved occupational status, interpersonal relationships, thinking patterns, coping skills and social activities. The study includes a randomized controlled trial involving 1,100 participants in a mix of urban and rural communities in Florida, Texas, Pennsylvania and Kentucky.
There are five 5 key ingredients that help prisoners stay out of jail — healthy thinking patterns, meaningful work, effective coping, developing positive social engagement, and positive relationships — and four evidence-based interventions are being used to target those five keys. SFBT targets two of them: finding effective coping strategies and developing positive relationships with family, friends and co-workers.
The two-year study got underway in January, and the first round of prisoners is expected to be released and begin receiving treatment this summer. Kim's role is to hire and train counselors to use SFBT to help prisoners come up with positive coping strategies and positive relationships; the SFBT-trained clinicians will be embedded in agencies that provide re-entry services in local communities.
"SFBT gives clients more agency," Kim says, making it particularly useful for mandated clients, such as those involved in the child-welfare or justice systems. "They're often told what to do, and in this approach, we don't tell them what they have to do but rather co-construct solutions to their problems. It's very effective in engaging clients who are mandated, or who might be seen as resistant, because it's such a collaborative approach. SFBT lets clients be the experts in defining what the problem is and what needs to be done to solve the problems.
"Our job is to ask the right questions to help clients figure that out."
"The more tools we can give our clinicians, the better. I want to train social workers to provide the most effective intervention out there to help their clients in the quickest amount of time." — GSSW Associate Prof. Johnny Kim