Housing and Homelessness Innovations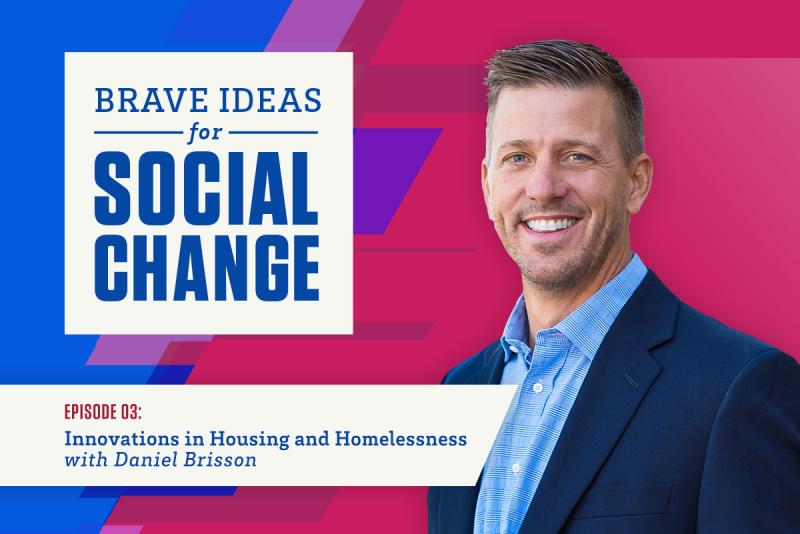 Brave Idea: Professor Daniel Brisson, executive director of the Center for Housing and Homelessness Research, shares some of what he's learned about recent innovations in housing and homelessness. Those innovations include applying trauma-informed design to buildings for people who were recently homeless, creating spaces that don't just shelter but help to heal. Another innovation is the Denver Basic Income Project, which gives basic income to individuals experiencing homelessness with the goal of building a healthier society grounded in social justice and centered around improving human thriving.
Resources:
Amanda Moore McBride:
Welcome to episode three of the Brave Ideas for Social Change podcast series, produced by the University of Denver Graduate School of Social Work. This series draws on GSSW faculty expertise for fast-moving discussions on emerging research, practice and policy innovations to spur social change. Today's faculty expert is Professor Daniel Brisson, executive director of the Center for Housing and Homelessness Research, which provides scientifically supported research, evaluation, training, technical assistance, and community assessments on issues relating to housing security and homelessness. Through his work at the center, he's been able to take a close look at some new approaches to addressing poverty and homelessness, including tiny homes, safe parking and basic income. He's here today to share some of what he's learned about recent innovations in housing and homelessness. Welcome Daniel.
Daniel Brisson: 
Thank you, Dean McBride, it is a pleasure to join you today.
Amanda Moore McBride:
The United States is experiencing a homelessness crisis with more than half a million people unhoused and more expected to lose their homes due to the pandemic and the related financial crisis. I understand we spend billions on homelessness programs yet are only meeting about 25% of the need for housing. In the face of statistics like this, gosh, what gives you hope?
Daniel Brisson: 
It's a great question. Homelessness and housing affordability are at crisis levels. So watching individuals, communities, "other" those who struggle to pay their rent or find themselves homeless in such unprecedented times can be a challenge. However, fortunately, for me what gives me hope is, I have seen partners coming into the fields of housing and homelessness from all sorts of spaces and disciplines, with new ideas, new energy, and a hopeful and ambitious view on the issue. And importantly, this is bringing new resources to housing and homelessness, and these resources are sorely needed.
For example, our center has a collaboration with an architectural group, Shopworks Architecture, and we're bringing trauma-informed design — let me say that again, trauma-informed design — to buildings for people who were recently homeless. This isn't trauma-informed care, but design. Designing buildings to be part of the healing process. Trauma-informed design is providing builders and developers with a different way of thinking about their builds — not about amenities like a swimming pool, or weight room, but about design elements that can heal.
One example that our team often talks about is that often apartments for people who were once experiencing homelessness have institutionalized ceilings, those hanging ceilings that remind people of a hospital or other care facility. And through a trauma-informed design process, putting a ceiling in there that doesn't agitate past trauma and remind people of poor experiences but instead thinking about the color of the ceiling, the texture of the ceiling, the materials in the ceiling to bring a warm and soothing environment for people who live there. So trauma-informed design is one project we're working on.
Another really exciting project is the Denver Basic Income Project. Recently, an entrepreneur and philanthropist approached staff from our center and told us that he thinks our country can do better supporting people experiencing homelessness by giving them directly cash. This is a popular idea. A guaranteed basic income is how people often refer to it. And this entrepreneur has jumped in with both feet, with his own resources and entrepreneurial work experience, to add to the effort to address housing insecurity and homelessness.
Amanda Moore McBride:
Wow, Daniel, these developments are so exciting. Just giving these examples and thinking about the hope that's represented in these new ideas and new approaches. Denver will be the first U.S. city, I understand, to study the impact of providing direct cash assistance to unhoused individuals. Tell us more about this project that you just mentioned. How exactly does it work?
Daniel Brisson: 
Well, basic income, like the name implies, provides no-strings-attached money directly to people so they can spend it to meet their basic needs. Let me tell you specifically what the Denver Basic Income Project will entail. In this project, we will provide a group of 260 people who are experiencing homelessness $1,000 a month for 12 months. The project will provide a second group of 260 people experiencing homelessness a single one-time payment of $6,500, and then 11 consecutive monthly payments of $500. So, both of these groups after 12 months will receive $12,000 in no-strings-attached cash.
And the idea behind the Denver Basic Income Project and guaranteed basic income projects in general is that people know best how to meet their own needs. So, providing people with cash to spend allows them to address their own financial needs rather than a more typical, a more paternalistic antipoverty program that specifies exactly how money can be spent for someone struggling with issues related to poverty.
I mean, a simple example is a mom who's working a full-time job and living in poverty wages experiencing homelessness needs a car repair. And maybe this mom is sleeping in her car with a child. Many existing social safety net programs won't allow resources to be spent on a car repair, which for this mom is absolutely essential to maintain her job, to keep some earned income and to help her address the dire need she's in. A guaranteed basic income, the Denver Basic Income Project will provide unrestricted cash to mom so that she can decide to spend the money on the car repair, or in a different circumstance on clothes for children, for food, for rent, or as simple as to buy take-out when she needs a break from all the drastic challenges in her life. Guaranteed basic income is not meant to replace existing social safety net programs, but instead to supplement them with the flexible money people need in our society to get by.
Amanda Moore McBride:
I'm hearing intervention, and I'm also hearing science. Can you say a bit about the role of the center in relation to this project?
Daniel Brisson: 
You know, it's interesting you say science and intervention, because the project is a bit of a hybrid. We are part intervention and part evaluation. We are researchers on the project. We will assess the impact of the Denver Basic Income Project for people enrolled in the program. We've developed a mixed-methods randomized controlled design to assess the impact of the Denver Basic Income Project on outcomes such as housing stability, mental health, jobs, income and a feeling of control over one's life, just to name a few. Additionally, we'll ask participants about their experience in the project. We'll ask some participants to share their stories with us. We'll collect monthly data on spending and health, and we'll assess the impact of the intervention from program enrollment, which will be this fall, to program completion 12 months later.
The power of our design, of randomized control design, is we'll be able to look at people who are chosen randomly and receive 12 months of unrestricted cash to a controlled group of participants who will receive a small amount of cash, $50 per month, but won't receive the full amount of cash. And right now we're not exactly sure what we'll find, but we're certainly interested in understanding how guaranteed basic income can impact the experience of homelessness for people here in Denver.
Amanda Moore McBride:
This project is so powerful. What I really appreciate about it is that it challenges how we think about "services" and even the larger field of social work. What conditions are needed to encourage more innovation like this, and what's the role of social work?
Daniel Brisson: 
Yeah, Amanda, I really appreciate that. Yeah. It is exciting to be involved in a project that does challenge our more historical traditional ways of doing things. I don't think a single solution is going to address the housing affordability crisis. I think what we need are innovators and an ability to work across disciplines. I would like to see social work embrace more cross-disciplinary interventions and ideas. I've been teaching a class at GSSW for the last 10 years or so called Poverty and Community Economic Development. And one of the main points I try to have students embrace is the need to work with people who don't necessarily think like social workers. Being able to communicate with and partner with people who have different expertise than us I think this is one of the easiest ways for social workers to impact change.
Amanda Moore McBride:
Oh, I love it. Let's stay on this. Let's talk more about social work. One of the things that I find is, especially when you're working with those from other disciplines or that even just have different mindsets, they see poverty and homelessness, for example, as personal failings rather than systemic injustices. And these mindsets, gosh, I mean, roadblocks to change. Right? So, I'd love to hear what your thoughts are on the role of social work is, and not just developing, implementing, and studying interventions, but actually changing people's hearts, minds and these larger social norms.
Daniel Brisson: 
Yeah, Amanda, that's an interesting and challenging question. And I have my own approach, and I don't by any means think that my approach is the right approach for everyone. But I do see systemic injustice as a root cause for many of the issues facing the most marginalized people in our country and our world. So, for me, creating trusting relationships — and that's it, I'll say it again, creating trusting relationships with others, others who don't necessarily think exactly the same as we do — is an important place to start. Once that trusting relationship is there, there's the possibility that someone else might believe that what I have to say is actually worthwhile. I guess my approach is owning what I know and then listening to others when they have expertise, and that this can lead to the communication exactly necessary to change hearts and minds.
Amanda Moore McBride:
Well, we started this by me asking you to give me some hope. Not only have you given me hope, but I feel so inspired. Thank you for sharing about your work and these incredible insights about social change.
Daniel Brisson: 
Amanda, it is always a pleasure to talk to you. I so appreciate all you do for the field and pushing all of us forward. Thank you for giving me the time to share what I know with our audience.
Amanda Moore McBride:
Thank you. Thank you. Please, every one, subscribe to our Brave Ideas for Social Change podcast for more conversations just like this, including our upcoming discussion related to critical race theory. Learn more at socialwork.du.edu/change.