Impacting Kenyan Communities
'Social Work in Kenya' course celebrates 10 years of partnering for people, animals and environment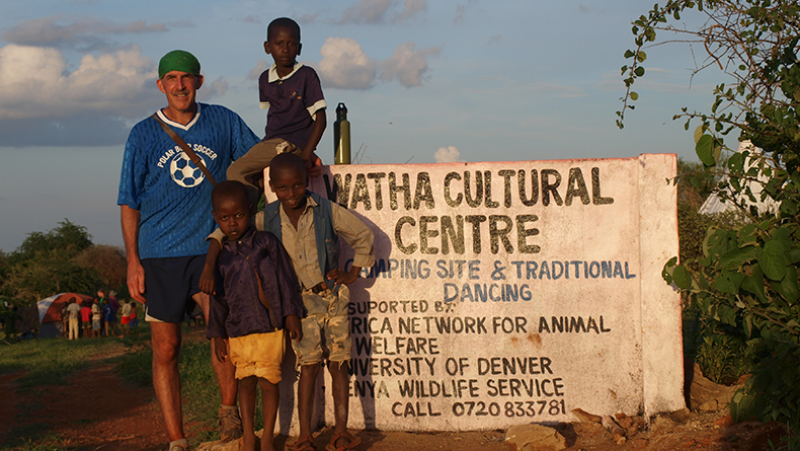 When Philip Tedeschi landed at Denver International Airport in December after a two-week trip to Kenya, he had good reason to feel nostalgic. His course Social Work in Kenya: Context, Empowerment, Sustainability marked its 10th anniversary this year.
There is plenty to celebrate. The course has had a far-reaching, life-changing impact for animals, communities in Kenya and more than 125 GSSW students.
Among the key elements of the course is the concept of One Health, which brings multiple disciplines together to improve health for people, animals and the environment. "It's about human-animal connections and how human pressures — such as poverty — impact animal welfare and the environment," says Tedeschi, clinical professor with the Graduate School of Social Work (GSSW) and director of the Institute for Human-Animal Connection at the school.
"Some have questioned whether or not U.S. universities can be helpful abroad, but I think we've shown we can with this course," Tedeschi says. "The U.S. often gets it wrong when it tries to insert itself in places around the world, but with Kenya, we have close relationships and community engagement that has benefitted everyone involved."
One of those relationships is with Kenya-based Africa Network for Animal Welfare, a non-governmental organization that promotes humane treatment and protection of animals and partners with GSSW to offer the course.
Another partner is the Kenya Wildlife Service, which removes snares that trap and kill animals for illegal bushmeat. "A big part of this course is actually going out into the field to find the snares," Tedeschi explains. "Poachers make wire nooses that catch animals by their necks. When the animals feel the noose, they often run, and the noose tightens around their necks and it slowly kills them. It's a terrible way for animals to be caught and killed."
Although Tedeschi says all his students feel passionate about animal protection, the course also causes them to think about who is setting the snares, and why, so that they can begin to think about how to solve those issues. "This situation is iconic for students because it illustrates many of the challenges an international social worker might face," he says.
One former student, Courtney Brown, MSW '15, says the course helped her better understand why social workers are relevant in conservation work and why environmental issues are relevant to social justice.
"Many people, even my colleagues in social work, are often unaware of or minimize this relationship," Brown says. "We saw specific examples of how complex social issues are intertwined with environmental challenges and how we can and should develop interventions and policy that improve the health of people, animals and the environment."
Another course partner is The David Sheldrick Wildlife Trust, which promotes the care and rehabilitation of elephants that have been victims of poaching. "This is an internationally recognized organization, and working with it helps students get a first-hand look at animal trauma — some of which is similar to post-traumatic stress disorder seen in people," Tedeschi says.
In southern coastal Kenya, students engage with the Waatha tribal community, which used to hunt elephants but now earns income from basket weaving. "They had a difficult time of acculturation, but we've worked with them extensively by helping them secure a brickmaking machine and market their baskets outside of their region," Tedeschi explains. "At the same time, they teach our students about growing thistle used to make the baskets," Tedeschi says.
In a related effort, GSSW interns work with high schoolers in the Kibera Girls Soccer Academy, located in one of the world's largest slums in the heart of Nairobi, Kenya. Tedeschi says the girls there face gender-based violence, disease, poverty and cultural pressure against education for females. GSSW began working at the academy during the second year of the course, when just 10 girls took part. Today that number is near 150, and DU interns are finding and organizing academy alumnae to return to the school as role models to support the current students.
"This is a good example of work that's sustainable and respectful of the community," Tedeschi explains. "Having alumnae support means the academy doesn't have to rely on us for things to work there."
Social Work in Kenya is offered as part of GSSW's concentration in Sustainable Development & Global Practice, and Tedeschi says he believes the course has lasted 10 years primarily because the problems it addresses have grown in importance. "The issues are more critical now than a decade ago. There is a sense of urgency, and social-science-informed solutions provide important contributions on the very issues that the United Nations has identified in its development goals. Issues like education of young women, gender equality, accessibility to reliable food and clean water, good governance, sustainable livelihoods, land and marine conservation — issues we're addressing and learning about in this course."
"It's a profound experience," Tedeschi says. "It gives students perspective on their own culture; they can revisit their own values and consumptive behavior, power and privilege."
"When students experience and understand another culture, they learn there's common ground. And that's important in social work — figuring out what groups have in common so they can make progress in building relationships and genuine understanding."
As the course continues to evolve in response to both community needs and global issues, Tedeschi says, "We'll be doing more multidisciplinary work, first with DU's law school — helping law students learn about the legal system in Kenya, and then eventually adding more disciplines. That's important because to understand all the contributing factors of issues there, it takes a lot of knowledge."
Students in GSSW's Sustainable Development & Global Practice concentration are prepared to partner effectively with families, communities, non-governmental organizations and institutions.