Adjunct Professor Ashley Ratliff fights for justice for those who need it most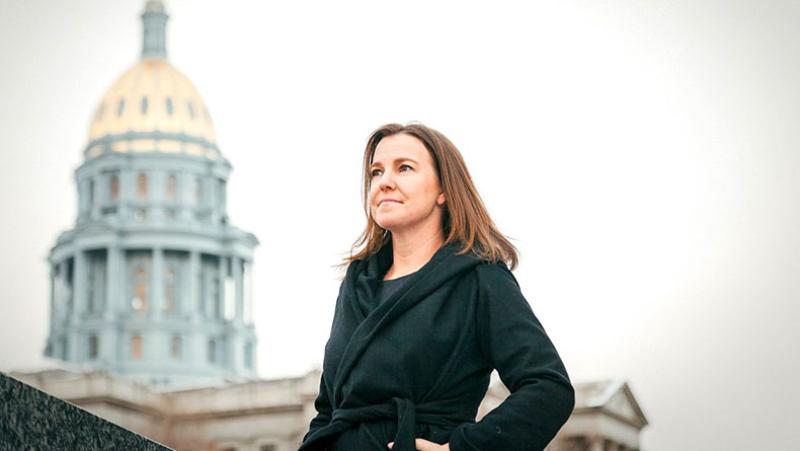 Image Courtesy of Morgan Rachel Levy
When Curtis Brooks walks out of the Arkansas Valley Correctional Facility a free man on July 1, 2019, it will be due, in part, to the work of University of Denver Graduate School of Social Work (GSSW) Adjunct Professor Ashley Ratliff, MSW/JD, a juvenile and criminal defense attorney who focuses on wrongful incarceration and egregious adult sentences for minors.
A former Colorado State public defender, Ratliff was part of a team of attorneys who worked to get clemency for Brooks who, as a teenager, was sentenced to life without parole for his involvement in a carjacking.
"There were so many components of this case that were striking, as both a social worker and a lawyer — about racial disparity, oppression and privilege," Ratliff says. "There were so many issues that jumped out as wrong."
At age 15, Brooks had been abandoned by his abusive mother and was living on the streets of Denver when he was charged as an adult with felony murder for his role in a robbery that resulted in the death of Christopher Ramos. Four teens were involved: two of them white, and two of them black. The white defendants received plea offers or lenient sentences and are free today, Ratliff notes, but Brooks and the other black defendant weren't offered deals and were sentenced to life without parole. Although he didn't fire the shot that killed Ramos, Brooks has served nearly 24 years in prison.
Brooks' personal circumstances aside, Ratliff says, "I believe it's wrong in general to send a child to prison for life. A youth who has participated in a violent crime still has the capacity to grow and change."
The U.S. Supreme Court agrees. In 2012, the court ruled in Miller v. Alabama that mandatory life sentences without parole for youth were unconstitutional. That ruling meant that prisoners such as Brooks should be considered for resentencing.
From Courtroom to Classroom 
Ratliff uses her experiences as an attorney as real-life, real-time case studies in the courses she teaches: Social Work Policy and Advocacy, Social Work and the Law, and Trauma Informed Practice.
In the introductory policy course, Ratliff aims to bring to life how a bill becomes law. She shares her 2016 experience drafting and testifying on behalf of Senate Bill 16-181, legislation that aligned Colorado law with the U.S. Supreme Court rulings banning mandatory life sentences without parole for youth offenders like Brooks.
When Colorado law stood in the way of resentencing for youth offenders, Ratliff and a handful of other juvenile defense practitioners resolved to effect change in the courtroom and at the legislature. "SB 16–181 is one example of many legislative efforts that have stemmed from practitioners moving stories into policy changes over the last decade in Colorado," Ratliff says.
In the Social Work and the Law course, Ratliff discusses the many obstacles that can crop up even after a law is signed — things like constitutional challenges, which SB 16-181 faced and eventually beat. She and students also discuss common areas of concern — and potential inequity — such as the low burden of proof for terminating parental rights. "I ask students, 'What could we do about that?'"
"A graduate degree in social work is so powerful," Ratliff tells students. "It can help so many individuals, but it can also help systems change. We can take little steps no matter what career path we take, no matter what side we're on. If there are things going on that don't sit well with the ethics and practice of social work, any one of us can make change."
Storytelling is a theme in Ratliff's work. She co-edited Criminal Defense-Based Social Work (Routledge, 2018), the first publication of its kind in the field of forensic social work. The book draws upon the Colorado Model of Criminal Defense-Based Forensic Social Work, an interdisciplinary approach Ratliff helped develop and applies in her law practice. The model uses a holistic, client-centered, trauma-informed, collaborative approach to weave a mitigation narrative for defendants.
"Stories move people. Stories move judges, stories move legislators," Ratliff says. "As social workers, we can tell stories in a comprehensive, client-centered way."
The Next Chapter for Curtis Brooks
The Brooks case was the focus of a May 7 episode of A&E's "Kids Behind Bars: Life or Parole" series, which tells the individual stories of child offenders sentenced to mandatory life terms without parole who are now seeking resentencing. Part of the filming took place in Ratliff's classroom.
"I do feel like I have an obligation to [victim Christopher Ramos'] family, and to him, to live better than I would have," Brooks, now 39, says in another video about the case. In prison, Brooks earned his GED, has taken college courses and learned four languages.
Brooks was never resentenced because on Dec. 13, 2018, Colorado Gov. John Hickenlooper granted his application for clemency. Ratliff's storytelling — about how Brooks had changed, what he had accomplished, what he could do in the future — became part of the clemency application.
"It is up to you to make the most of this opportunity," Hickenlooper wrote in a letter informing Brooks of the commutation. "Others who have experienced circumstances similar to yours will look to you for guidance and inspiration. I know you will be a positive example."
When he is released, Brooks will return to his home state of Maryland, where he has housing, a job and a large circle of support waiting. He'll serve five years on parole.
Not everyone has that sort of support, which means there is more work to be done. "Our system is unequipped once it comes time for these young people to be paroled. There is so much room for social workers to help individuals who have been incarcerated," Ratliff says. "People who have been convicted of crimes are human beings too, with a trauma history among other context to their life circumstances. We have to look at the systems that surrounded each of them as a child, what failed before and what needs were unmet that we can help with now."
"Things don't change unless you push," Ratliff adds. "There are so many places we see things wrong, maybe we can't always help that individual client the way we want to, but we can push the systems. It's really hard. It can be exhausting and overwhelming. But you have to keep pushing so the system is more just."