Keeping Kids Out of Foster Care
GSSW Associate Prof. Suzanne Kerns is helping to develop a national clearinghouse of evidence-based prevention programs
When the Family First Prevention Services Act (FFPSA) became federal law in February 2018, it marked a significant shift in federal emphasis — and funding — from downstream programs to those programs and services that prevent children from entering foster care in the first place.
FFPSA tasks states with developing their own strategies for meeting the law's requirements. But how will states choose from among the universe of potential program and services options those that will best meet the act's funding requirements and goals of reducing foster care placement and improving the well-being of children in foster care?
That is where the University of Denver Graduate School of Social Work (GSSW) comes in. GSSW Research Associate Professor Suzanne Kerns is part of a team developing a clearinghouse of evidence-based programs and services eligible for FFPSA funding.
Under auspices of the U.S. Department of Health and Human Services Administration for Children and Families, the Title IV-E Prevention Services Clearinghouse will rate mental health and substance abuse prevention and treatment, in-home parent skill-based programs, and kinship navigator services as promising, supported, or well-supported. Informed by these ratings, states will develop their own implementation strategies (to receive funding, at least half of the programs a state implements must be evidence-based).
As the project's scientific principal investigator, Kerns is providing guidance on clearinghouse specifications and rating criteria. The project is led by ABT Associates, and John Fluke of the University of Colorado Kempe Center for the Prevention of Treatment of Child Abuse and Neglect is serving as a senior advisor.
During summer 2018, Kerns says, the federal government asked states for guidance on which programs to rate initially, and the clearinghouse will continue eliciting input to ensure it is relevant and responsive. The clearinghouse website, with ratings of initial programs, will launch in spring 2019.
"This is going to shape the service array for children and families, depending on how states incorporate the work we're doing into their state plans," Kerns says. "We're not saying which programs they should implement, but we're saying which ones should be eligible for funding."
Eventually, the evaluation team will report on its procedures and criteria, says Kerns, who is Executive Director of GSSW's Center for Effective Interventions (CEI) and a member of the Child & Family Evidence Based Practices Consortium leadership group. "Our hope is that it will help future studies and research programs to know what features they need to include in their study design. Clearinghouses help increase the rigor of the science being done. There could be some impact within the scientific community — that's pretty exciting."
CEI helps agencies, communities, tribes and government programs in Colorado, New Mexico, Arizona and Texas to effectively implement Multi-Systemic Therapy for chronic and violent juvenile offenders and their families. Although the center has long championed evidence-based practices for children in the region, the clearinghouse is the Center's first project with a national scope.
"We want to broaden access to evidence-based supports across the system of care for children and families," Kerns says. "There's a chance to really consider how FFPSA implementation is going to manifest itself over time, and what kind of supports we can provide to do it well. There is a lot of work that is going to have to be done locally and nationally to realize the intent of the legislation."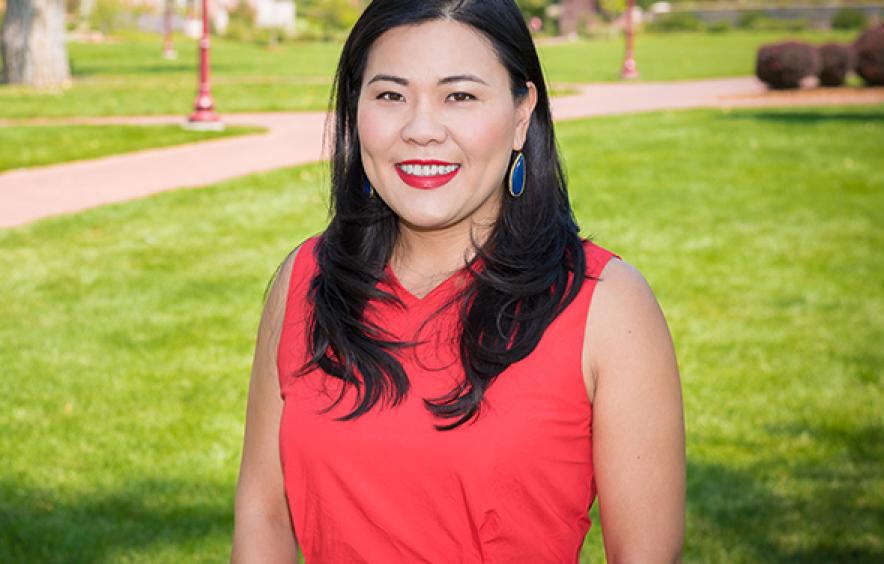 Putting Families First
GSSW Assistant Professor Amy He has been invited to serve as a member of the Colorado Department of Human Services (CDHS) Family First Prevention Services Act 2018 (FFPSA) Program and Services Subcommittee. The committee supports CDHS's efforts to analyze and implement stipulations of the FFPSA, groundbreaking legislation aimed at providing prevention services to families at imminent risk of entering the foster care system. Professor He also is a member of the CDHS Core Compression Planning Team. Working with Casey Family Services, the team has identified and developed critical decisions, timeframes and recommendations for the state's FFPSA road map.