GSSW Adjunct Prof. Elissa Hardy is helping to define a new social work specialty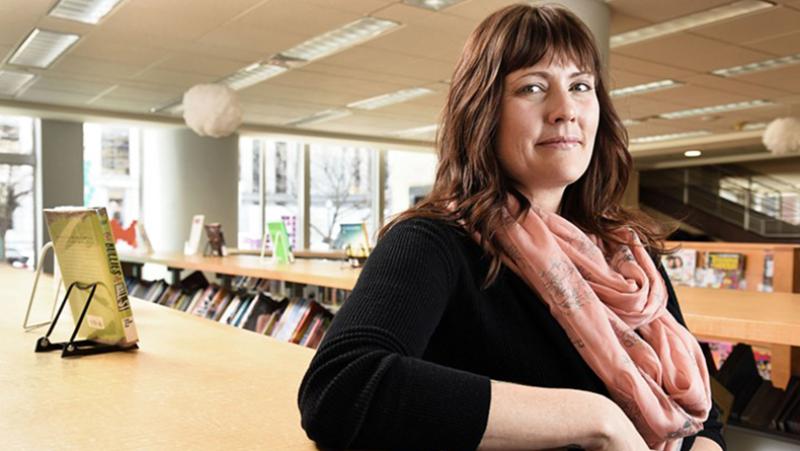 When Elissa Hardy, LCSW, joined the Denver Public Library staff as a social worker three years ago, it was one of only three libraries in the country that employed social workers. With funding for two years, her charge was to provide outreach to people experiencing homelessness and connect them with services.
Today, Hardy is a permanent member of the library staff and supervises three other social workers and a team of peer navigators as they assist people experiencing "life challenges" — everything from aging parents to homelessness to mental health and substance use issues — by providing them with "information, relationship and connection to services."
"The people have always been here. We're just able to connect with them now," says Hardy, an adjunct professor at the Graduate School of Social Work (GSSW), where she teaches MSW courses on policy; the intersections of mental health, substance use and trauma; and power, privilege and oppression. In fall 2018, Hardy will begin offering field internships at the library for second-year GSSW students.
So, what exactly does a library social worker do?
The library team doesn't do case management, Hardy notes. "A lot of what we do is support and training for staff," Hardy says, guiding them in self-care, training them to deal with mental health emergencies, and teaching them to apply a trauma-informed approach to their work. "We talk about the intersections of mental health, substance use and trauma," Hardy says. "It increases compassion and understanding." With this sort of approach, for example, security staff and social workers can provide support instead of asking a patron to leave or making a 911 call.
Hardy also works to reduce stigma associated with homelessness. "We pull in staff to help with programming for people experiencing homelessness or adverse life experiences. It has helped shift perceptions," says Hardy, who previously worked for the Jefferson Center for Mental Health and the Colorado Coalition for the Homeless.
The peer navigators work through a lens of lived experience, Hardy explains. This includes living a path of recovery with a mental health diagnosis, substance use issue, and/or homelessness. Armed with snacks and necessities like socks, peer navigators stroll the library throughout the day and are often the first line of support for patrons in need.
Hardy continues to evolve her practice to meet the needs of library patrons. For instance, following an overdose death in the library last year, Hardy's team began carrying Narcan to reverse opioid overdoses; they used it 13 times in 2017. This year, they began connecting homeless patrons to a new service: the Bayaud Enterprises Laundry Truck, which now makes weekly stops at the library's Central Branch.
Last year, the Denver Public Library social work team made 3,500 contacts — up from just 400 in 2015. It recently hired two additional social workers — one with a specialty in youth and families, and one who specializes in working with immigrants and refugees — to provide additional coverage across the library's 26 branches.
Although there are now only around 20 library social workers nationwide, interest is growing along with need. More libraries are adding social work staff, and Hardy is working with the National Association of Social Workers and the Public Library Association to recognize library social work as a specialty.
"Libraries are free and equal access. Anyone can come in and just be," Hardy says. "The library is intended to be a non-oppressive, inclusive space."
Part of Hardy's job is to help ensure that it is.
Read more about Elissa Hardy and the Denver Public Library social work program: