Moral Injury in Social Work
Recent PhD graduate Pari (Shah) Thibodeau has redefined moral injury among health care social workers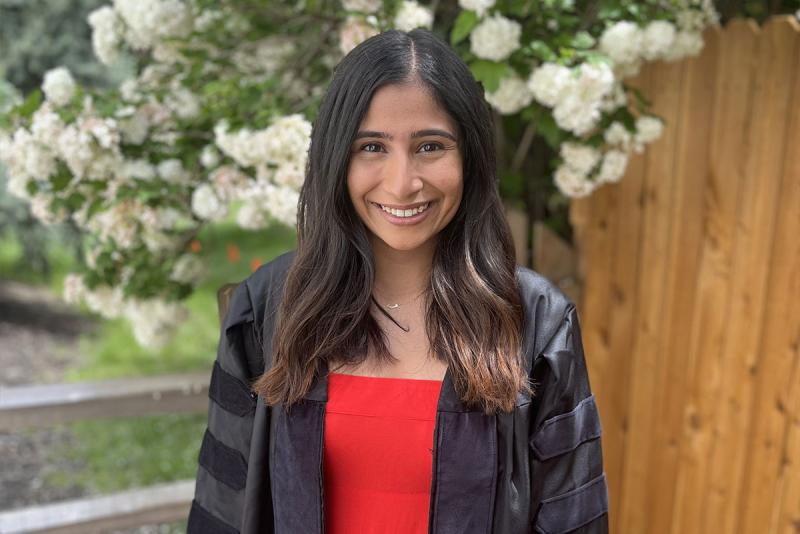 As an undergraduate, Pari (Shah) Thibodeau, PhD'23, LCSW, had hoped to pursue a psychology or medicine career but discovered that the applied practice part of her education would come much later than she'd like. And, she had a fear of needles and blood. So, she took an introduction to human services course and ended up majoring in human services.
Thibodeau recalls that at the time, she didn't expect graduate school to be in her future. "I have never been an outstanding student, but as I pursued my MSW, my interest in schoolwork was ignited." She also discovered an interest in health care social work.
"I worked in a long-term care facility after graduation and saw several fractures in the system," she says. "The main one that stood out to me was staffing shortages. There just weren't enough people to meet the basic needs of the patient. There would be one nurse for 16 patients! A lot of the people I worked with had high acuity and need, and that wasn't sufficient." Even worse, there were just 1–2 social workers serving 250 patients and their families.
"I couldn't imagine doing this forever, being part of a broken system and not taking it one step further and making an impact," Thibodeau recalls. "I had all these big questions, and I felt stuck working in a system I felt helpless within."
That experience — and the desire to address gaps in health system to improve patient care and outcomes — led Thibodeau to enroll in the University of Denver Graduate School of Social Work (GSSW) doctoral program. She graduated this spring as the first person in her family with a PhD and now is treating patients, teaching students and working on systems change as an assistant professor in the START (Stress, Trauma, Adversity Research and Treatment) Center in the University of Colorado School of Medicine Psychiatry Department.
"I'm excited to [be in] a school of medicine because it ties together my medical and mental health interests, and I get to see clients and do research," Thibodeau says. In social work, she says, there's often a divide between being a clinician or a researcher, and social work PhDs are rarely found in medical schools. "I remember in my first year that I didn't want to let go of my clinical skills. My head always went to schools of medicine — those folks do research and see patients. If the profession of medicine can do it, why can't other professions?"
Thibodeau views herself as a health systems researcher and person-centered clinician. Clinically, she works with individuals and families who have complex trauma experiences. As a scholar, she critically examines how health care workers' well-being is impacted by their work.
For her dissertation, Thibodeau studied moral injury among health care social workers. According to the Moral Injury Project, moral injury can occur when an individual "perpetrates, witnesses or fails to prevent acts that transgress one's own moral beliefs, values or ethical codes of conduct."
"Moral injury is a part of the well-being narrative we don't talk about," Thibodeau says. "We never talk about how much power we have in the helping profession over people's lives and how making choices impacts the people we're working with. I wanted to understand what moral injury looks like for health care social workers, who are often left out of well-being conversations either because there aren't as many or because they're tasked with supporting their colleagues rather than being included in the support. We need to understand how they're doing — they're the ones who know the patients the best."
She adapted the Moral Injury Symptom Scale–Healthcare Professionals to create the Moral Injury Symptom Scale–Healthcare Social Workers. For her mixed-methods study, she interviewed 24 health care social workers to find out what moral injury meant to them. Thibodeau then went through every question in the original scale and asked each person whether the question was something they had experienced and whether they liked how it was phrased. Based on that feedback, she adapted the original scale and tested the new instrument with 160 participants nationwide, finding that the reliability of the new scale was strong.
"The takeaway is that the original scale can be used across disciplines, but if you're just measuring the social work experience, you should use the new scale," Thibodeau says.
In addition to developing and testing the new scale, Thibodeau found that participants had a different definition of moral injury. "The definition I gleaned from participants was that moral injury isn't just about doing the wrong thing but being unable to do the right thing — a constraint of powerlessness in the work," says Thibodeau, who had experienced something very similar early in her career. "One person described it as this 'yuck' feeling."
Examples included discharging people who are unhoused from the emergency department to the streets in winter, someone wanting to get sober but the hospital not having enough available beds, calling for restraints more often for Black people, or calling child protective services about a family. "Those types of things came up a lot," Thibodeau says. "Social workers experience moral injury when they witness or engage in social injustice. Social justice is in our code of ethics, and when we can't uphold that, it results in moral injury."
"I hypothesize that this leads to turnover," Thibodeau adds. "People feel so stuck or disheartened [that] they leave. There's a big exit from health care because people can't tolerate these work environments anymore. And the moral or ethical guidelines are so blurry, people want to do something."
Thibodeau's next steps include sharing results of her research with participants and community partners — that's a priority, she says — and further testing the new scale.
"I want to get a better understanding of how moral injury relates to mental health and trauma," Thibodeau says. "It's important to connect those narratives. That's probably the next big research question."
Thibodeau entered the doctoral program wanting to study self-care and burnout. But, she says, "It doesn't matter if you take care of yourself if the system continues to do harm. The notion of moral injury speaks to power and power imbalance. The system is still people. It is still directed by people and policies. Health care social workers are in the in-between of policy and practice — the vessels or bridge between policy and practice. That's such a risk factor for experiencing moral injury."