GSSW's Science for Action Series is fueling new collaborative efforts to address the Grand Challenges for Social Work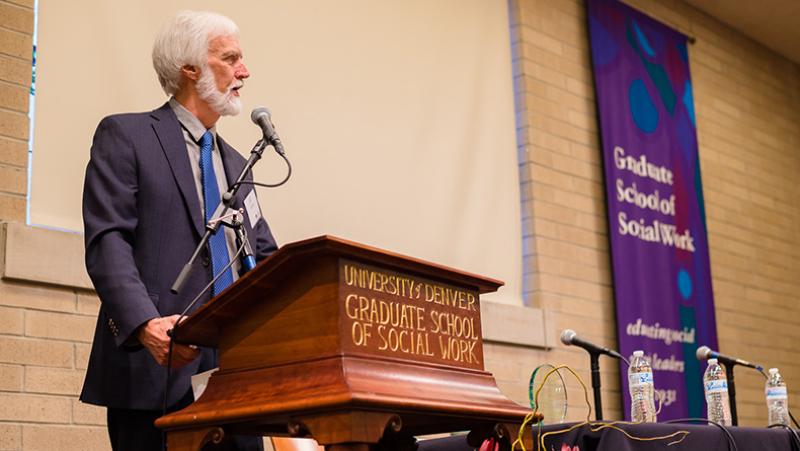 In fall 2017, the University of Denver Graduate School of Social Work (GSSW) brought together more than 1,000 policymakers, community members, researchers, and national leaders in prevention science, practice and policy to make headway on addressing the Grand Challenge to Ensure Healthy Development for All Youth through the power of prevention. The occasion was GSSW's inaugural session of the Science for Action Series, which continued with spring 2018 conferences on smart decarceration and ending homelessness.
The Science for Action Series addresses the American Academy of Social Work and Social Welfare's 12 Grand Challenges for Social Work with a distinctive approach that pairs evidence and knowledge with local, state and federal policy and advocacy. It also has ignited a collaborative movement to effect systemic change.
As an outgrowth of that initial Science for Action event, GSSW, the University of Colorado (CU) Center for the Study and Prevention of Violence and the Colorado State University (CSU) Prevention Research Center have initiated a tri-institutional partnership that is working on prevention and healthy youth development initiatives in Colorado. The group is exploring research and policy opportunities aimed at promoting tested and effective preventive interventions for children and families in Colorado.
"GSSW's Science for Action brought everybody into the room together for a day, and this is the kind of thing we wanted to see happen — for people to connect around grand challenges topics and further the work," says Jeff Jenson, Philip D. and Eleanor G. Winn Endowed Professor for Children and Youth and chair of the national Coalition for the Promotion of Behavioral Health, an interdisciplinary group of researchers, policymakers and practitioners working to advance grand challenges prevention action steps. GSSW is one of the coalition's five university partners.
In a related grand challenges collaboration via the coalition, Jenson, GSSW Professors Kim Bender and Nicole Nicotera, CSU Associate Professor Anne Williford and Arizona State University Associate Professor Elizabeth Anthony have developed the first three modules — covering theory, direct practice and community practice — of a prevention training series for use in MSW and other graduate programs nationwide. The training series addresses the need for workforce development strategies to prepare practitioners for new roles in prevention — one of seven action steps identified to advance healthy youth development.
Combining Forces
"The combined academic forces of universities are essential to identifying and amplifying the scientific paths toward social progress," says Grand Challenges Executive Committee member Richard Barth, dean of the University of Maryland School of Social Work and past president of the American Academy of Social Work and Social Welfare. "From the first days of the grand challenges initiative, the leadership was clear that social workers could not achieve the aspirations of the challenges without robust academic and community partnerships."
Science for Action is a catalyst for such partnerships, and the action that results.
"The opportunity to connect via Science for Action with other researchers, practitioners and state agency representatives who are invested in translating good science for public benefit was extremely valuable," says Professor Doug Coatsworth, director of CSU's Prevention Research Center. "We've broadened and deepened our work with a number of different communities throughout the state, and there is a concerted effort for University of Denver, CSU and CU Boulder representatives who are invested in prevention science to collaborate more intentionally to bring science to bear on policymaking and preventive interventions statewide."
For instance, the CSU Prevention Research Center is working with The Pew Charitable Trusts to translate evidence-based policymaking initiatives from the state level to the county level, helping county officials use evidence-based policymaking strategies and resources. The connections fostered and facilitated by Science for Action strengthened this effort to make policy and implementation more effective and strategic, Coatsworth says.
New partnerships with organizations including Volunteers of America, Lutheran Hospital and the City of Englewood are emerging from the session on ending homelessness, says organizer and GSSW Associate Professor Daniel Brisson, executive director of the Burnes Center on Poverty and Homelessness, which is blogging about the event and other initiatives related to the Grand Challenge to End Homelessness.
Assistant Professor Shannon Sliva organized the Science for Action session on smart decarceration. "We created new connections and furthered dialogue about the need for more innovative solutions to long-standing criminal justice problems like inequities in pre-trial bail practices and major gaps in the re-entry structures for people returning from prison," Sliva says. "As a result of the event, I've strengthened my relationships with leaders in my field and gained new social work students interested in pursuing careers in justice reform. For me, one of the most important outcomes of the event has been the opportunity for community leaders to see GSSW as a socially engaged hub for this kind of work."
More than 1,650 people have directly participated in Science for Action either in person or live online, and the series continues in 2018–19, beginning with a session addressing the Grand Challenge to Reduce Extreme Economic Inequality.
Economic Equality and Financial Capability

Oct. 25, 2018
Featuring Michael Sherraden, Washington University in St. Louis | Margaret Sherraden, Washington University in St. Louis | Trina Shanks, University of Michigan | Amanda Moore McBride, University of Denver

Closing the Health Gap

Feb. 27, 2019
Featuring Michael Spencer, University of Washington | Michael Talamantes, University of Denver

Advancing Long and Productive Lives

April 4, 2019
Featuring Nancy Morrow-Howell, Washington University in St. Louis | Ernest Gonzales, Colombia University | Leslie Hasche, University of Denver | Jennifer Greenfield, University of Denver
"Science for Action has been a leader in the effort to bring the grand challenges into the practice world and to bring the practice world into the grand challenges," Barth says. "With the pioneering work done on evidence-based and preventive parenting and children's behavioral health programming, Science for Action has created a strategy for engaging Coloradans and others who seek to roll out science-informed practices.
"The continuation of the Science for Action events — and follow-up activities — offers a nation-leading approach to realizing the possibilities of the Grand Challenges for Social Work."