Storytelling for Social Justice
Storytellers speak 'Truth to Power' at recent GSSW Catalyst Series for Social Justice event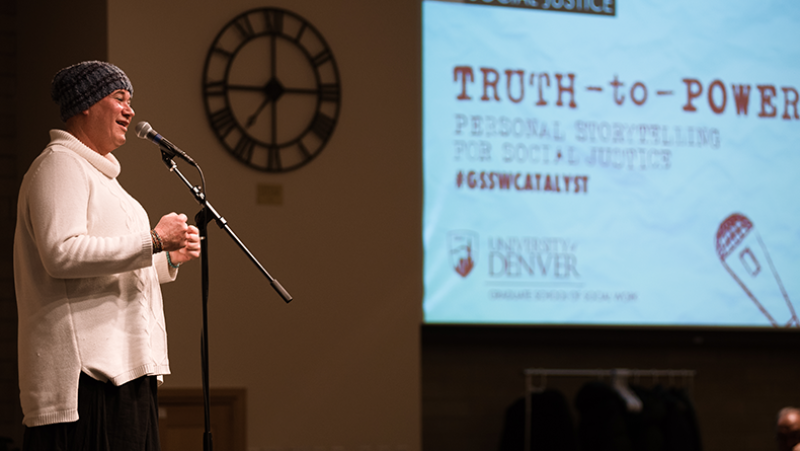 Often, facts aren't enough to shift someone's perspective. But telling a compelling personal story can.
That was the lesson in Truth to Power: Personal Storytelling for Social Justice, the latest in the Graduate School of Social Work (GSSW) Catalyst Series for Social Justice. Over two days of workshops in January, 30 participants from the campus and the community learned to use personal storytelling as a tool for critical self-reflection, practiced how to apply key concepts of narrative to their own personal stories and discussed how to use storytelling to advocate for social justice. Ten participants then shared their own 5-minute "truth to power" stories before a live audience of 300 (plus another 1,500 people who have watched the video).
"For those of us who identify as social-justice activists, being able to speak to the heart of the matter is really powerful for social change," says Catalyst organizer Abby Howard, assistant director of community engagement and a GSSW adjunct faculty member.
"Stories really can change minds, and stories really can change hearts. And stories really can be weaponized to do what we need to get done in the world," emcee Julian Goldhagen told the audience. Goldhagen, co-facilitated the Truth to Power workshops with other members of SPEECH/ACT, a social justice-seeking collective that teaches narrative skills to policy advocates.
Starting a Conversation
One of the changes GSSW doctoral student Heather Kennedy wants to see is normalization of the idea that "you can be a competent professional and still have a mental health challenge." Kennedy works at Children's Hospital Colorado, where she often invites young people to share their stories. At Truth to Power, she shared her own struggle with postpartum depression. "People with mental health problems hide those because of the stigma that still exists, even within a really progressive space like DU. Mental health problems within academia aren't discussed," Kennedy says. "Sharing my own story was important in trying to reduce the stigma. This identity is one we don't talk about, so I wanted to speak truth to that. And I wanted to be brave."
The workshop demonstrated "the power of an intentionally crafted story to teach people something," Kennedy says. One storyteller talked about being misgendered, and another shared a story about microaggression from a neighbor. "I knew about these experiences," Kennedy says, "but when we share them as stories, they come so much more alive."
Reclaiming and Reframing
GSSW Clinical Assistant Prof. Lorena Gaibor was the storyteller who shared her experience with microaggression from a neighbor who had asked, "Where are you from?"
"Folks that don't look white are asked all the time, 'Where are you from?' Unless you stop to think about it, it's a very normal question. But for people of color, it reinforces this sense of not belonging, not being part of the American fabric," says Gaibor, who originally hails from New Jersey and identifies as Latina.
"The next time somebody asks me where I'm from, I'm going to say I'm an American, and I come from a long line of indigenous Americans. Where are you from?" Gaibor says. "I'm reclaiming for myself what it means to belong and be an American. That is my response now."
Workshop participant Jonah DeChants is a doctoral student who works with young adults who are experiencing homelessness. He hopes to use his honed storytelling skills to help youths tell their own stories and advocate for change. "The brainstorming and framing activities that we did in the workshop were helpful for clarifying the arc of a story," DeChants explains. "I hope to include more of these techniques in research projects, reframing data as stories so that it can be more accessible to readers."
Reframing the narrative about being transgender was the subject of DeChants' story. Although trans people are increasingly in the news, he says, the stories are still about how difficult it is to be trans. "Being trans is the best thing that ever happened to me! My life is a miracle," DeChants says. "I wish that in addition to acknowledging all the hardships we experience as marginalized people, instead of talking only about all the things that we lose, we could also talk about the things that we gain."
Humanizing Issues
"All of the stories were really powerful, important stories that need to be heard," Gaibor says. "They were personal stories, but they also were vignettes of larger struggles, and that's part of what makes them so powerful."
DeChants agrees. "People were so vulnerable, and it was amazing to see that vulnerability transformed into power and strength," he says. "Their stories have stuck with me and humanized issues that I didn't previously have a personal connection to."
Storytelling sparks conversation and reflection, creating teachable moments, says Gaibor, who is thinking about ways to use storytelling in the classroom to help students think about their own issues and identities. As social workers, she says, "It's important to think about who we are, our positionality, and the unprocessed things we might need to work on so we're conscious about bringing our 'stuff' into relationships with the people we're trying to help."
Although the process of self-discovery and sharing can be difficult, it's also empowering, participants say. "I was a little worried about ruffled feathers, but that's part of the trauma in being a person of color," Gaibor says. "I spoke my truth, and if that was uncomfortable for somebody to hear, that's for them to think about.
"I stand by my story."
Created in 2016 and returning in 2018–19, the Catalyst Series for Social Justice brings together campus and community for timely, topical conversations on issues like race and identity. The final event for 2017–18 is Lose Hate Note Weight, an in-depth discussion about diet culture and "fatphobia" with an eye to the intersections of race, gender and class.