PhD alumnus Joseph Gallegos has focused his career on advancing social justice through social work education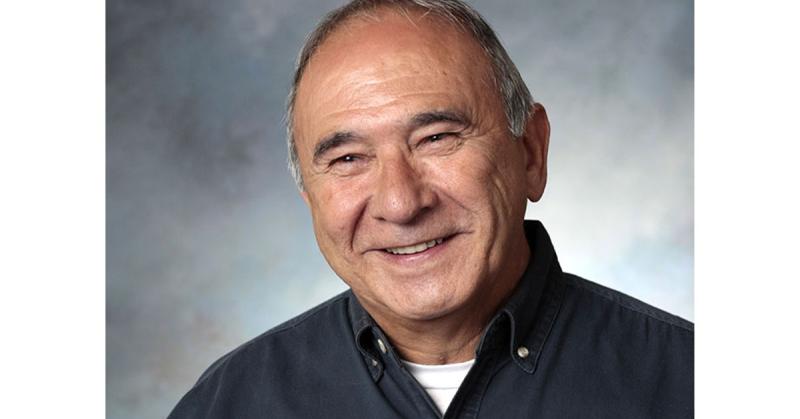 University of Denver Graduate School of Social Work (GSSW) PhD alumnus Joseph Gallegos's life and career have taken many turns, but always toward his North Star: social justice.
For more than 40 years, Gallegos has been a social work educator and administrator, a civic leader, a community organizer and a public servant. He was on faculty at Portland State University, the University of Washington and San Diego State University before landing at the University of Portland, where he taught for more than 20 years and founded its social work program. The professor emeritus then went on to lead the Pacific University MSW program. He continues his work today through Western Research Associates, a social research and development consulting agency, and is developing a handbook on social policy advocacy based on values of social justice, equity and fairness.
Gallegos, PhD '78, served two terms in the Oregon State Legislature House of Representatives, where he sponsored more than two dozen bills, including legislation to address tuition equity and cultural competence in state higher education systems and a bill to provide scholarships and wraparound services for first-generation community college students.
His list of honors and awards spans three pages and includes 2016 recognition as a "Social Work Pioneer" by the National Association of Social Workers (NASW). In 2018, Gallegos was appointed by the governor to the Oregon Commission on Hispanic Affairs.
Although his CV is impressive, it doesn't tell Gallegos's full story — the struggles, the lessons, the impact, the many important and often unlikely turning points that led him to where he is.
From Manual Labor to Intellectual Leader
Gallegos grew up in Oregon, where his parents were migrant agricultural workers in the Willamette Valley. They would pull him out of school when they hit the migrant trail in the spring, and he would return to school in the late fall.
"In school, I was really labeled a slow learner, a troublemaker. It had a lot to do with my home life, but I didn't put it together at all until later," Gallegos recalls. He attended 10 different elementary schools, failed out of a Catholic boy's school and had joined a gang by age 14.
When Gallegos started high school, he was a year behind. But high school was a major turning point. To impress a girl in his English class, "I went through this metamorphosis." Gallegos changed his wardrobe and style, started getting good grades and joined a college-bound peer group. But when he went to Portland State to register, he found out his GPA was too low.
So, his father got him a job in a shipyard. Gallegos hated the work. "That kind of work was the kind of trajectory open to men that I knew," Gallegos says. "My father, his friends, they were all laborers and alcoholics. I knew the only way I'd get out of that was through education."
Gallegos tried to figure out how to change his path. He took a career exam for electronics but failed. He then saw a TV commercial from NASW. It said, "You can change the world. Be a social worker."
"I went downtown to the NASW office and asked where I could sign up," Gallegos recalls. "They said I needed to go to college."
He enrolled in community college, but on the first day of classes, he arrived late. "No one had ever told me in college you could still go to class after the bell rings," Gallegos recalls. "I stood outside that classroom for 20 minutes not knowing what to do. I walked out and joined the Air Force."
His service lasted just a year. It was the 1960s, and 19-year-old Gallegos was stationed in upstate New York. He was walking back to his barracks when a truck drove by and a box of books fell out. It was another turning point.
"I'd never read until that time. There were no books in my house," Gallegos says. But when he found that box of pulp fiction, "I started reading and I never stopped. I read through that box and then went to base library and read everything I could. I got to philosophy and read Kant, Kierkegard, Camus and Sartre — these guys were asking the same questions I was! I started to read and question everything."
Gallegos was discharged to return to Portland to help his parents, who had become disabled. That meant returning to work in the Gunderson Brothers shipyard, building barges. But with his curiosity engaged, he also attended community college, starting classes at 8:30 a.m. and finishing at 3 p.m., then heading to the shipyard for the swing shift, working until midnight every day. He juggled work and school for a decade, ultimately earning his BS in social work from Portland State University in 1972.
An Awakening to Injustice
As much as Gallegos hated working as a shipyard welder, the experience as a laborer sparked his awareness of injustice. "We would compete with each other about how much work we could get done in a day," Gallegos recalls. "We're busting our butt and the company owner is the one really benefitting. We were getting paid just enough to get by."
"I came out with a deeper understanding of poverty, of working blue-collar values and needs. It created a special window for me," Gallegos adds. "By the time I got to college, I realized what oppression was like."
He recalls a class that was particularly formative. It was a Western civilization course, and when Gallegos told the instructor he was a shipyard worker, the instructor responded, "Maybe you should stay there, Joe."
Instead, Gallegos went on to pursue an MSW at Portland State. It was during the height of the Chicano movement, and Gallegos's practicum was to develop a Chicano student union at the university. "I learned that story wasn't unique to me," Gallegos says. "The Latinx women who were there had to deal not just with the cultural and ethnic biases but also gender biases." While young men like him were encouraged to stay in the shipyards, young women were encouraged to attend beauty school, if they were encouraged toward education at all.
With his MSW in hand, Gallegos counseled Latino and American Indian students and families in Portland public schools, and then helped to establish Colegio Cesar Chavez, the nation's first accredited, independent four-year Chicano/Latino college. As director of planning and research, Gallegos ended up in Washington, DC, to secure accreditation and federal financial aid for Colegio students. He attended federal committee meetings during the day, but with little money, he slept in cars and all-night movie theaters at night.
It was his first serious foray into policy advocacy.
The Path to a PhD 
Gallegos's next turning point came when two Colegio students were shot and killed by police. During hearings after the shooting, he realized that the Latino community needed an advocate who understood research and data. "That was my reason for going for the doctorate — so I could understand the language and advocate on behalf of the community," Gallegos says.
But Gallegos was conflicted. He didn't want to become one of "them — one of the oppressors." He chose GSSW's PhD program because it was the only social work doctoral program at the time with an explicit cross-cultural focus. He was among the nation's first Council on Social Work Education Minority Doctoral Fellows; of his 10-person doctoral class, all but two were students of color. "That made it very special," Gallegos says.
Still, Gallegos and colleagues of color would commiserate about the difficulties of being people of color in a white world. It was at GSSW that the roots of Gallegos's long-term focus on cultural competency in mental health were established.
Once he had his PhD, Gallegos joined the faculty at Portland State, where he directed the Indian Social Work Education Project — an initiative that was soon scrapped along with other minority-focused programs. Gallegos then was recruited to the University of Washington, where he coordinated the Multi-Ethnic Mental Health Training Project and was mentored by a tenured core faculty of color. "These faculty were all supportive of my making change recommendations, but they would not risk themselves," Gallegos recalls.
It was an important lesson. "I thought being faculty of color, you're automatically a social change person. I saw being a professor as a vehicle for social change. I always have," Gallegos says. "But not everyone sees it that way."
"I realized through my work as a change agent that these institutions hire us to be their conscience, but they don't really want us to stay," Gallegos adds. "That's been true throughout my career." During three years in a postdoctoral appointment with the National Institute of Mental Health, Gallegos says, "They didn't want to hear from me on racism or poverty. I went away from that postdoc thinking it was me — that I wasn't getting something. I realize now they had a different agenda."
A Legacy of Action 
Gallegos's work is cited by NASW as the root of cultural competence. "I'm very proud and satisfied that it's become so ubiquitous, but I remain concerned that it is still so much lip service," Gallegos says. "It is so difficult to actualize."
Likewise, Gallegos says, social work hasn't adequately addressed the impacts of poverty and oppression. That's why after years of teaching social policy, he says he jumped at the chance to serve in the Oregon State Legislature.
Students often "don't appreciate how incremental change has to be sometimes," he observes. "I take them back to Sisyphus and pushing that rock. What's important is that we try to make a difference — even if the difference isn't as big as we want it to be — and that we continue to try to make positive differences, always giving it our best. For what other purpose are we here?"