A Virtual Field Experience
Students in the online MSW program can practice their therapeutic skills in a virtual environment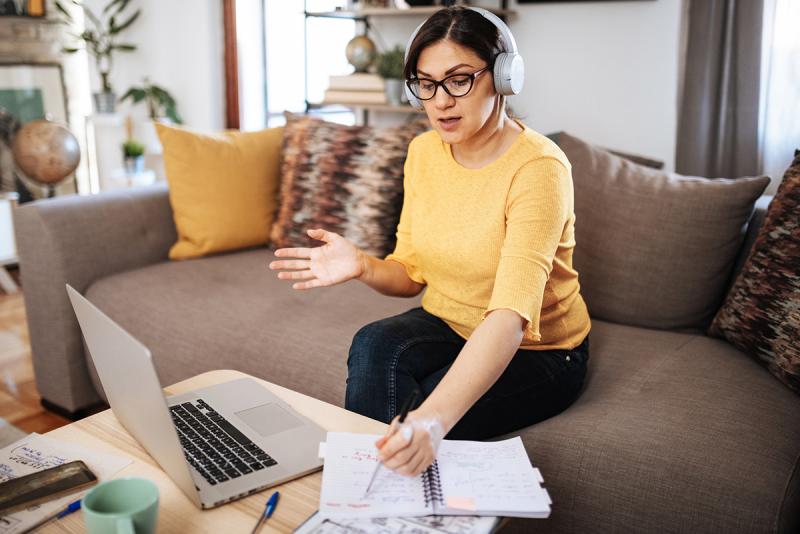 In fall 2020, as much of the world remained shut down due to the pandemic, the University of Denver Graduate School of Social Work was starting up its Virtual Field Experience (VFX) — a pilot course for MSW@Denver students who were having difficulty finding a field placement or whose work schedules didn't mesh with traditional daytime internship hours. Developed for online students, the course uses professional actors in client roles, allowing students to practice their clinical skills in a safe, supported environment. 
VFX includes both synchronous class sessions and asynchronous coursework over two quarters. Instructors role-play with students (class enrollment is capped at 12), helping them to practice the interventions they've been learning in class. Then students have an opportunity to provide therapy to five different actor "clients," experimenting with techniques such as motivational interviewing, observing each other's sessions and providing feedback to one another. 
"A student provides 12 minutes of counseling, then another student comes in and picks up where the previous person leaves off. The next person then continues the therapeutic session," explains MSW@Denver Program Director Stephanie George, an associate professor of the practice. "Meantime, the other students are watching off camera, taking notes and preparing feedback that they share once the session is over." 
The professional actors — including some Broadway and big-screen performers — play an assigned role, but they don't follow a script. For example, one actress played a 24-year-old female who had adopted her teenage sister's child; the family dynamic was causing friction with her romantic partner. The actors adlib as each therapy session unfolds. 
"One of the most important things about VFX is learning to give feedback," says Aneesha Bharwani, assistant dean for field education and associate professor of the practice. "It's rare during a field internship to have someone sitting with you and giving that feedback immediately rather than just debriefing later. Students watch how their peers are performing each and every time; that helps students to grow." 
For Online MSW Program students, they can opt for VFX, or they can pursue a field internship in their community. The VFX course is offered in a 2-quarter sequence, which provides 200 hours of equivalent field experience before students begin their community-based internship, where they then continue through the end of their MSW program. 
Students who opt instead for the traditional community-based path complete two separate internships during the Online MSW Program. While that allows students to sample different types of roles and settings, the longer community-based internship that VFX students complete helps students develop a deep clinical skill set, George says. 
Social work is a career change for MSW@Denver student Jillisa Young, who ended up in the VFX course because she was having difficulty finding an internship in her community. "It was probably the best class I've had in this program. It turned out to be such a blessing I took that class," she says, noting that her competencies were "so much stronger" going into her community-based internship with a North Carolina foster care agency, where she hopes to continue working after graduation in June 2022. 
Although the course started as a pandemic-driven pilot, it has been so successful it now is a permanent part of the MSW@Denver curriculum. More than 300 students have completed the course so far. "It's been so beneficial for those students who aren't prepared yet to work with a client one-to-one, who want to practice building rapport and using evidence-based interventions," George says. 
One of those students is Allison Fox, a lifelong Oregon resident who will graduate with her MSW in June. "I came into this program with no social work experience or medical experience and had that fear of making mistakes," Fox says, noting that VFX helped her to build skills in a safe environment where she wouldn't unintentionally harm someone. "I can't imagine doing the program any other way." 
Now feeling well prepared, Fox is completing her community-based internship providing adult outpatient mental health in an integrated health care setting in her hometown, where social workers are badly needed. The skills she practiced in the VFX course she now uses every day. 
VFX provides options for students like Fox and Young, Bharwani says. "This is just another way that we respect adult student learners — their learning needs, their schedules."